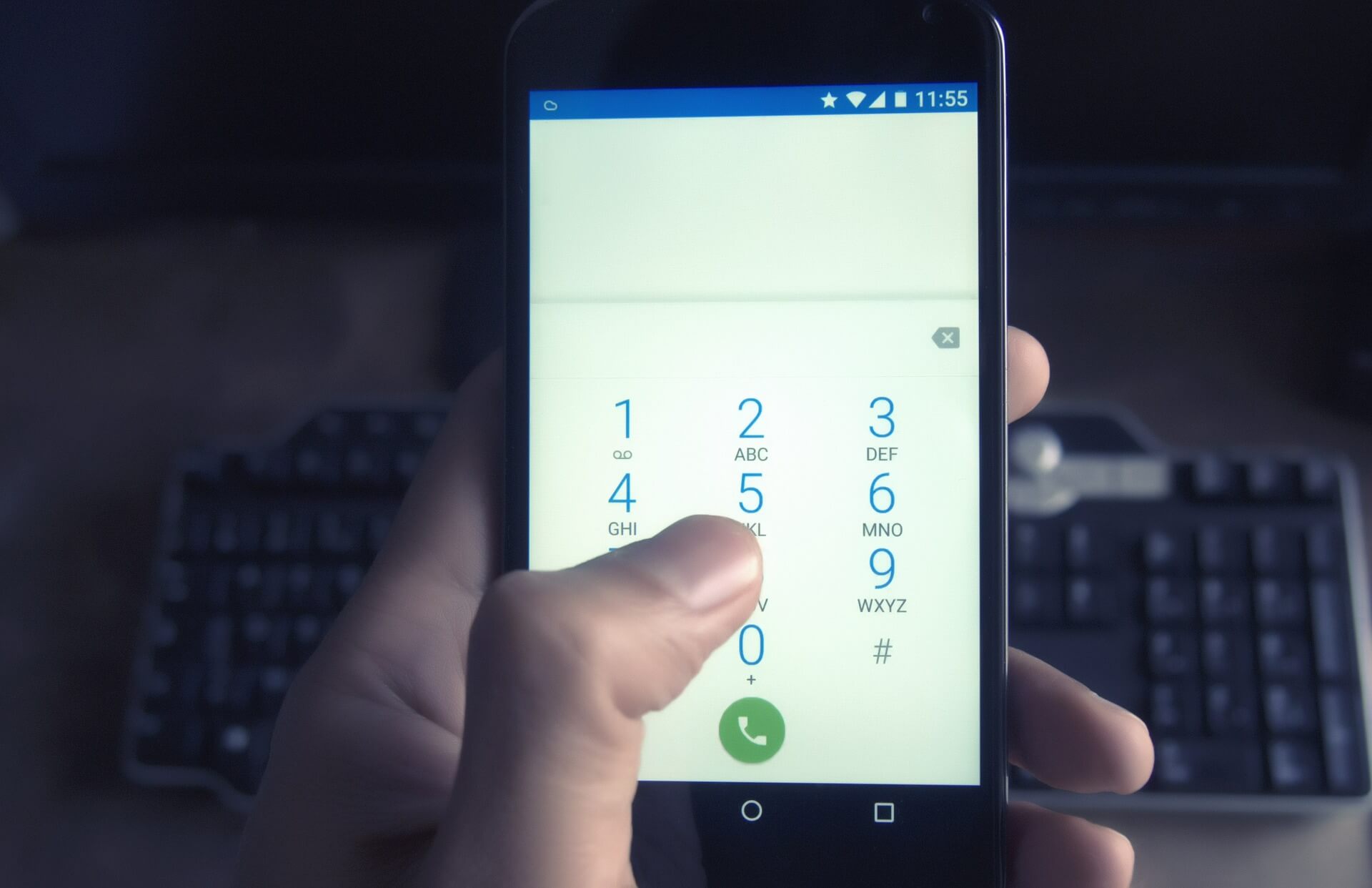 Built-in contact apps on phones can be too simple sometimes. they can store basic contact information but that's it. They can also be unresponsive at times, may lose your contacts during updates or worse, just stop working at all one day. There can be unending reasons for these issues, and it might take time for developers to fix this.
If you're having these kinds of problems, installing a contact app might be ideal, they tend to be more versatile, dependable and customizable, perfect for people who want more management features on their contact apps.
We made a list of the best and highest rated Contact Management Apps for your Android device. Most of them are Ad-free and all are free to install. Try all these apps on and decide for yourself. You might find the perfect one for you!
5 Best Contact  Apps For Android
ZenUI Dialer & Contacts
ZenUI is a well-built contact management app developed by ASUSTek Computer Inc. that has standard features and some advanced characteristics. It has the basic features that let you:
Store contacts
Dial
View/manage call logs
Speed dial (8 slots)
Duplicate contacts
Smart search
It also has unique features such as:
Smart blocking which automatically blocks calls from unidentified users and stops phone spam calls.
Protecting your contacts with a password. This feature also pulls up your front camera to act like a security camera and capture photos of whoever tries to hack your contact app with the wrong password.
Smart linking duplicate contacts
You can also personalize the app and apply themes.
It is available in English, Traditional Chinese, Simplified Chinese, Russian.
Cons:
The interface may look too simple or outdated to some
Compatibility issues
Android Version Requirement: 5.0 and up / varies
Space required: 14 MB / varies
Rating: 4.4 Stars
Download it here
Simpler Caller ID – Contacts and Dialer
Developed by Simpler Apps Inc., this app is a good replacement for your built-in contact app, it has all the basic features and more!
Basic features include:
Contact storing
T9 Dialer
Caller ID
View/manage call logs
Blocking unwanted calls
Merge all duplicate contacts
The app is available in 15 languages
Unique features:
Spam detection
Backup in one tap(easy backup)
40+ themes available
Get notifications on when to backup, change contact photo, manage duplicates and remove contacts
Cons:
Minor bugs reported by users
The app decides if a call is spam by its previous owner. May need improvement on the spam detection feature
The app may need to collect some personal data (for backup) so this may not be ideal for people who want to be careful with their info/privacy
Android Version Requirement: 4.4 and up
Space required: 12 MB
Rating: 4.6 Stars
Download it here
Contacts
Contacts are developed by Google and one of the most downloaded and used contact apps in the market. If you want to replace your current contact app for something organized and functional, this definitely is a good go-to app. You can only change your background to a dark or light theme though which can be a good or a bad thing for some who want more customization options for their contacts.
Contacts by Google has all the basic features such as:
Contact storing/management
Dialing
Speed dial
Universal search
duplicate/merge contacts
view/manage call logs
It has unique features that let you:
Backup and sync your contacts across your devices using your Google account
Add favorites
Add labels, lets you create groups
Get suggestions to merge, keep, delete contacts and add people you email often on your list
Cons:
Could use a little more customization options
Dark theme is grey, not black, some people could be very particular with this
No call recording option
Android Version Requirement: Varies with device
Space required:  Varies with device
Rating: 4.4 Stars
Download it here
Simple Contacts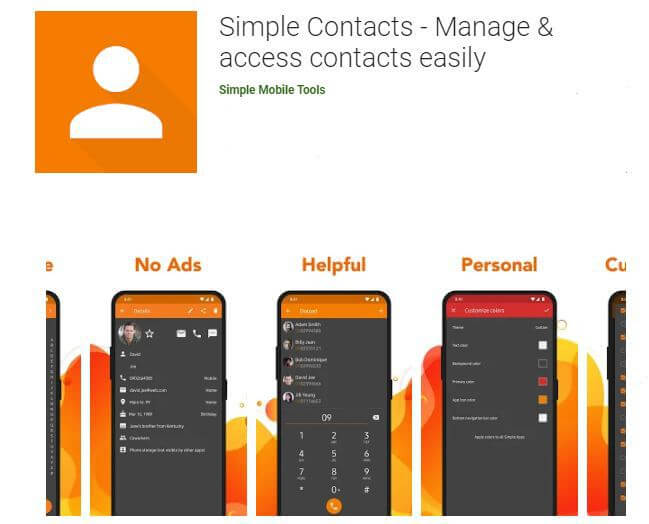 Simple Contacts is a light and functional contacts app that lets you manage and access your contacts easily.
It includes basic functions such as:
Contact storing/management
Dialer
Speed dial
Easy search
view and manage call log
Unique features:
Add favorites and create groups
Decide which fields show on your contact's info and what info you can add
Sync contacts by your Google or other accounts
Supports importing contacts in vCard format to .vcf files for backup and migration
Customizable by appearance, change the theme, text color, background, etc.
Contact info stays in-app for privacy
Cons:
This version of the app is no longer maintained, dev suggests installing the pro version
No call recording option
Android Version Requirement: 5.0 and up
Space required:  3.1 MB
Rating: 4.5 Stars
Download it here
Eyecon: Caller ID, Calls and Phone Contacts
Eyecon is a well built and smart contact app manager with numerous unique features. The interface alone is a completely good asset compared to other contact apps.
Some of the basic features include:
Contact storing/management
Dialer
Call log
Caller ID
Quick search
Eyecon is unique for its:
Visual contact features – if an unknown number calls and it's associated to a social media(such as Facebook) account, the photo and name on the account will appear instead of the number, this allows the app to easily ID contacts so you can protect yourself from spammers and anonymous callers.
Sync your dialer with other communicating platforms such as Whatsapp, FB, Viber, Skype and many more
Set your profile, control how your info shows on your contacts end when you call or contact them. Customize it with more than 30 themes to choose from.
"Can you talk?" feature checks the availability of the person you are gonna call.
Option to login privately without connecting your social media and other communication profiles.
Cons:
No call recording option
A little heavy for a contact app
Contains Ads – offers in-app purchases
Android Version Requirement: 4.1 and up
Space required:  25 MB
Rating: 4.5 Stars
Download it here
So did you find the ideal contact app for you?
Let us know if you have used any of these apps or if you use another effective contact management app besides these 5, share your experience below!