The loss of data cannot emphasized enough. The photos we take, the chats we have, apps we installed, the themes we liked, the words in our vocabulary that we have finally got the phone to understand [yaar]. None of this is necessary but absolutely all of this is what we want when we have the device in our hands. For someone who constantly keeps experimenting on devices and trying out new ROMs, I had a tough time understanding how to find a way of retaining my data and apps.
Of course, if you are on stock it is much easier, at least most of the stuff can easily be recovered. For example texts via Hangouts, photos via Google Photos, contacts via Gmail. But for custom ROMs it is not as easy. Firstly, we always want more out of the system and hence prefer not to use default apps. So how to do it? Kindly note, we are not talking about Titanium backup or any other 3rd party app. This is possible with the built in functionalities of Android and apps themselves.
Backup and Restore Apps and Data
For images, songs and all the non app stuff, please just copy the folder and put it back when you're done resetting. [For instance Music, Ringtones, DCIM].
For chats, personal dictionaries, open the corresponding app and in the Backup section Sync it before format [for instance in Swiftkey Keyboard and Whatsapp]
For Apps and themes, passwords installed go to Settings > Backup & Reset . Enable Back up my Data. Choose your back up account. Enable Automatic Restore.  That's it. You're good to go. Allow the sync option for some time to let Google create a backup and then you can proceed to formatting.
Sometimes, the reset process goes wrong, or delays occur. By this time, while using your secondary device, perhaps you have some new data [chats, passwords, apps] that you want to add to this device. That's simple too. When you first setup this new device, Google politely asks you. Set up as new device or Restore from another device.
This can really impact your fears when trying out new ROMs. Go ahead, test the waters. Let us know what issues you encounter. Some screenshots to get you started.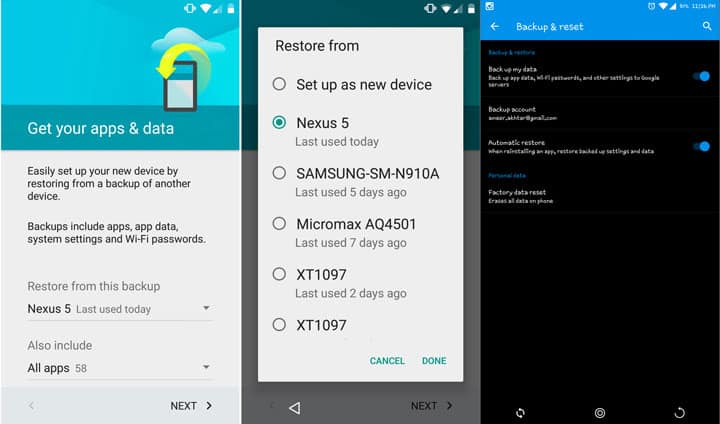 Tested on:
Stock Android
Euphoria OS [Nexus 6, Oneplus One]
Paranoid Android [Nexus 7, Nexus 6]
Cyanogen [Nexus 6, Oneplus]