With YouTube Vanced, you can enjoy features like dark or black theme, Picture-in-Picture and background playback on Android devices. Download YouTube Vanced APK from below and install it as instructed.
The official YouTube ad on Android wants you to get YouTube Red pretty much for every little feature that users want with YouTube. This is when YouTube red isn't even available in many countries so you might not even be able to enjoy Picture-in-Picture even if you're ready to pay. It's a good thing Android has such a lively developer community to help us out where Google abandons us. YouTube Vance is just another way of saying YouTube Advanced. That is what YouTube Vance essentially is anyway. This single mod gives you background playback, a dark theme, blocks ads and brings several other features.
YouTube Vanced is developed and maintained by a team of developers who go by the name Team Vanced on XDA. Their YouTube mod, i.e. YouTube Vanced, can be installed on both rooted and non-rooted devices. However, there are chances that it may not work on your unrooted device if you can not completely uninstall the original YouTube app. Yes, if you want YouTube Vanced you will be required to get rid of the original YouTube app. This isn't surprising considering many such mods require the original app to be uninstalled.
Most Android phones have YouTube as a system app which means it cannot be uninstalled without root. In this case, the devs suggest that you should uninstall all the updates at least. You may instead also try to uninstall the YouTube app from the system partition using adb. You'll also be required to install MicroG if you want to use the Sign-in features. Rooted users can uninstall the YouTube app from the system partition. If you're concerned about breaking the SafetyNet, there is a Magisk version of the mod too. This is the method we recommend.
Download YouTube Vanced APK
Visit the source link at the bottom if you're viewing this post at a later date, newer versions may have arrived.
Install YouTube Vanced APK (no root)
Download the YouTube Vanced APK file from the links provided above and install it normally like you would install any other APK. Before you can do this, you may need to enable Unknown sources in Settings > Security. Similarly, install the microG APK if you plan to sign-in and use features such as history and playlists.
Install YouTube Vanced via Magisk Module (Root)
Launch Magisk Manager and head over to the Downloads section.
Tap on the search button and type YouTube Vanced.

Tap on the download button next to YouTube Vanced – Magisk Repo. This mod does contain a dark theme, however, if you want a completely black theme, pick the one below it named YouTube Vanced black themed – Magisk Repo.
Select INSTALL on the popup box that appears. The mod is a little large in size similar to the original YouTube app so it may take a while to download depending on your internet speeds.

Once installed, tap on the REBOOT button.
Disable Auto-update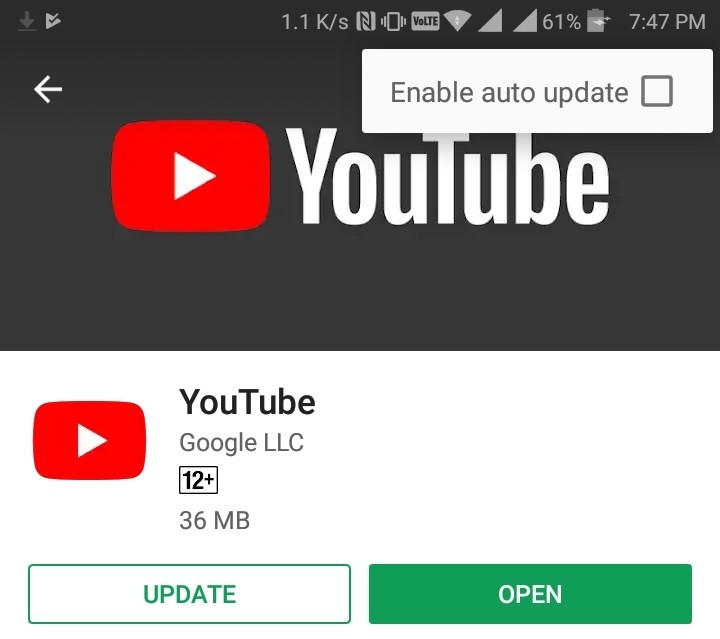 Regardless of the method you choose to install, you must complete this essential step. Head to the Google Play Store. Go to the YouTube page, tap on the three-dot menu button in the top-right and uncheck Enable auto update. If you ever allow the update to override the mode you will lose all the features.
Enable dark theme/black theme and explore the settings (Optional)
You should see the YouTube icon in your app drawer like you would for the original YouTube app. Launch it and tap on the profile picture in the top-right and go to Settings. You should see the normal YouTube app settings with an additional entry labeled Vanced Settings. This is where are the magic hides. In Vanced settings, go to Layout settings. You can turn or off several toggles here to modify the YouTube app layout. Towards the bottom, you will find the options Black watch and Back theme. The descriptions under each of these are pretty clear, so enable whichever you want. You don't even have to exit the app to see the changes. Simply press back and go to the app's main page.
Enjoy Background playback, PiP and more with YouTube Vanced
Anytime that you're now playing a video, you can simply tap on the home button and the video will continue to play in PiP (Picture-in-Picture). Even if you lock the screen, the video continues to play so you can listen to your favorite music or podcast now on YouTube. These settings are enabled by default, but it is easy to see the background playback feature becoming troublesome for some. You can disable this in Settings > Background & downloads.