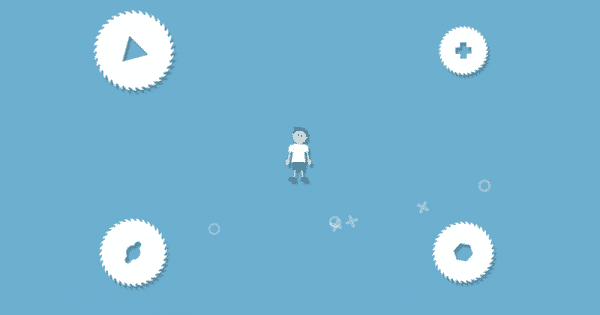 It isn't such a new story to hear the release of an Android game now. Especially, with the increasing amounts of Android users, and ever so building up of famous game developers, the Play Store is now a hub for all to enjoy. Many ( and I mean many) new game developers like Ketchapp studios and SMG developers have now become the new favorite manufacturers of games for us.
However, with so many games released every now and then, it is still hard to find that one game which you might be able to store on your Android device for quite some time. One such amongst the crowd is a game named Avoid. This amazing and addicting game has been developed by the already known Noodlecake Studios Inc.
The main idea behind the game is that you are set off in a small four-walled place with four spinning spikes, and all you need to do is survive. You do that by placing your finger on a free space down below the game area, and swipe it in the direction you want, which also moves your character. Although this game is meant for children, it contains some cute gore (seriously).
Each time you hit one of those spikes trying to grind you down, you loose a life. You get three lives in total, and each is illustrated by losing a body part. You somehow can still play once you loose your head (weird). If you hang on into the game for quite some time, you can see gold coins appear randomly at any place. You can collect them to build up your stash, and finally invest in many more characters.
The game feels unique as it has no much graphical power, but still makes your day better. There are so many characters you can unlock by spending coins, that this game never gets old. Plus, there are many more characters being added to this game recently.
This game thus proves that a simple and addictive game can make your day too! Noodlecake studios as always have done a great job on making this game! You can grab this game for free on the Google Play Store. Sure do leave down your high scores!