We've all had our fair share of file transferring nightmares. Ever experience moving a bunch of files and the connection goes off halfway? not being able to connect to the device you're trying to share files to? QR code/scanner acting up? waiting too long for transfers to finish? And a bunch of other problems? I know, I have. And it SUCKS.
So today, we will have a comprehensive review of a file transferring tool called AnyTrans.
We tested it in three different platforms:
Android App
Web Version
Windows Software
You can check the compatibility of  your device before you download here:
Access AnyTrans from an Android, iOS device, Mac or Windows computer. The connection can be established wirelessly through wifi or hotspot, or a USB cable.
AnyTrans – Android App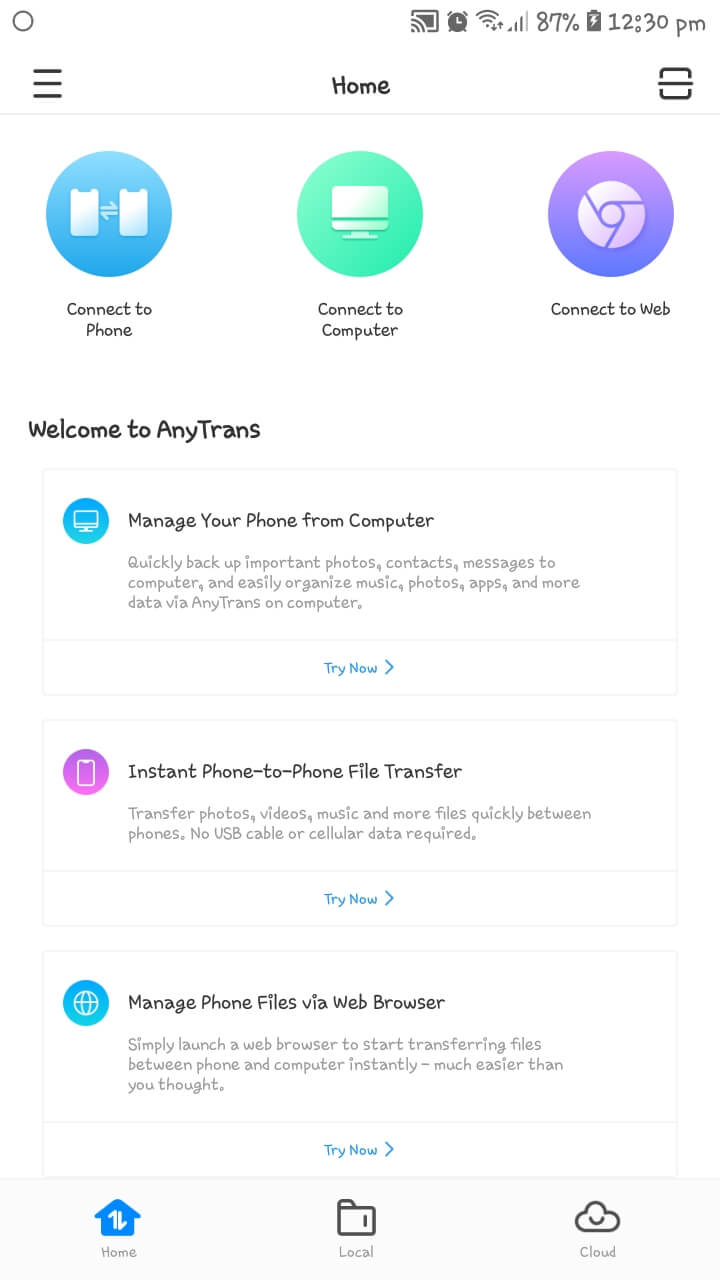 AnyTrans is developed by iMobie Inc and was released in October 2018 on Google Play. It is designed to conveniently transfer your files from your phone to another phone/computer/cloud storage. It can run on Android versions 5.0 and higher and requires 15 MB of space.
Since it's a file transfer app, it will require you to give it permission to access your:
files/storage
contacts
camera
network info(wifi)
calendar
Interface:
When you open the app, the first thing you will notice is that it isn't swarmed with Ads. It looks clean and organized and It's nice that it has all the main functions on the home page so you will instantly see options to connect to another phone, computer or the web version. On the lower part of the screen, you'll see options to see your local files and view your cloud storage, easy to backup your files.
You can login with your Google, Facebook or Twitter account on the menu button on the left side of the screen. There, you will also see guides on how you can connect your device to another one.
AnyTrans features includes:

Quick file sharing
Manage phone files from computer or web browser
QR scanner and radar to connect
Cloud-based file backup
256-bit SSL encryption to secure your files
ZERO Ads!
Connect and manage cloud based storage like:

Google Drive
OneDrive
iCloud
Dropbox
Pcloud
Box
To check all the supported file types, please open this link: AnyTrans Supported File Types
The Android app is free to install from Google Play or you can download the full version from AnyTrans.site.
io (Web Version)
The web version is the simplest among three platforms. You can only access your media files, documents and contacts on this web based version.
Features:
View Files
Transfer/Backup files to your computer
Export files from your computer
Translate the page in 5 different languages.
It is very easy to transfer and backup files from the phone to the computer. If you want to bulk transfer a bunch of photos, you can scroll down to the very bottom or until the photos that you want to import, hit the 'select all' button and download. In just a few clicks you'll be able to transfer or backup your files.
AnyTrans for Android (Computer Software)
AnyTrans for Android is a paid computer software that lets you manage your phone from your computer. Access your media files, contacts, messages, call logs, calendar, apps and many more.
Interface:
Neat and straightforward, just like all the other platforms, you'll get all you need in one page and you can translate it in 6 different languages.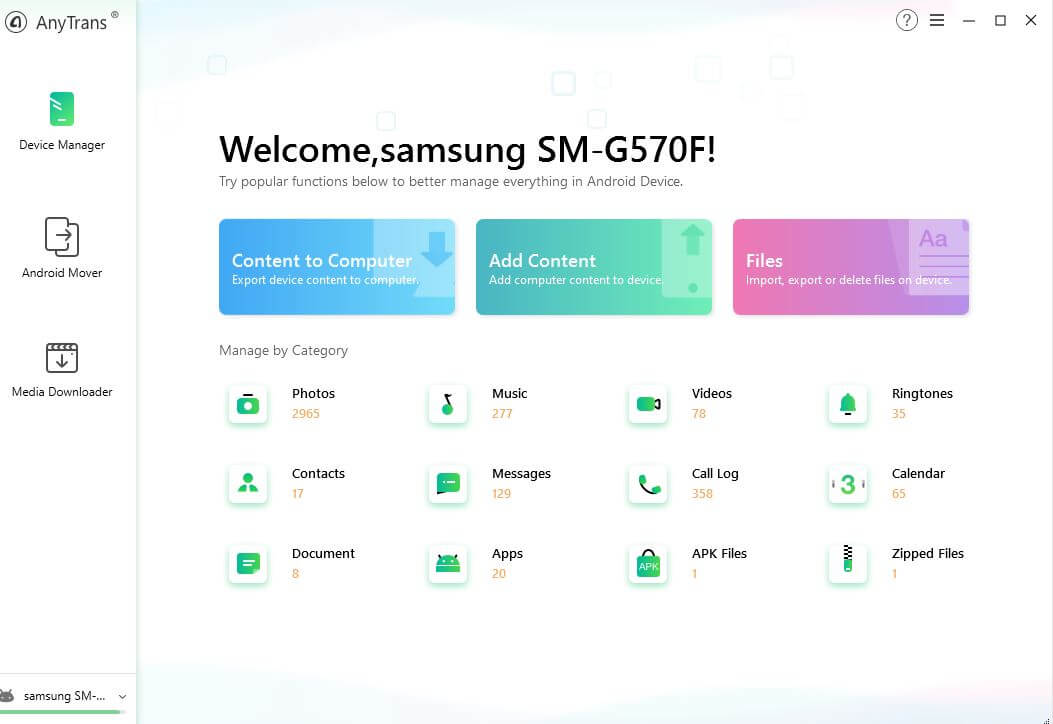 The device manager lets you decide what you want to do with your files on your computer. You can conveniently:
Save files to your pc
Send files to another Android device
Delete files
Uninstall apps
Upload files to your phone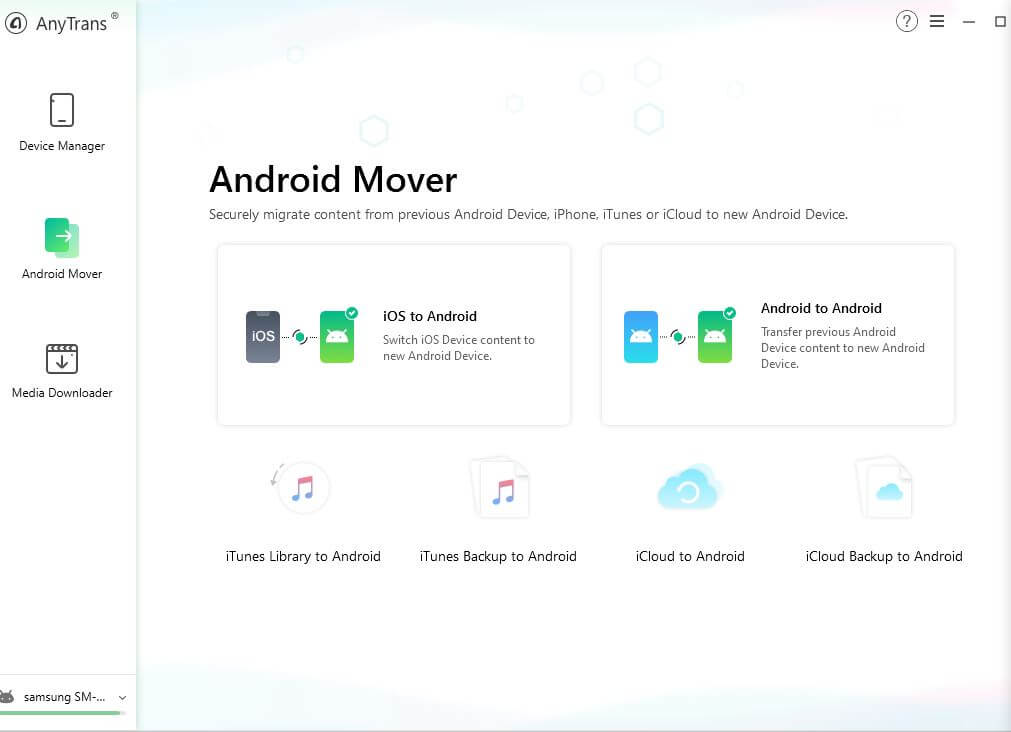 Android mover is an AnyTrans feature that lets you migrate your contents easily. It supports iOS to Android and Android to Android migrations.
Easily move files from your:
iTunes Library to Android
iTunes Backup to Android
iCloud to Android
iCloud Backup To Android
Media Downloader

This feature allows users to download videos and audio files from 1000+ sites for FREE. Directly save it to your phone and watch offline. It's available in different file formats and quality.
Check this link to learn more about this feature: Videos and Music on The Go
*The Media Downloader feature is only available in the computer software version.
You have to download the full version on your Android device by going to AnyTrans.site to access your phone's messages, contacts and call logs
To check rates: AnyTrans License Rates
Conclusion
Overall, AnyTrans is a real game-changer. Makes the file transfer and backup process a more pleasant experience.
Here's what we liked about AnyTrans:
The interface is clean, functions are organized
The app and software are very light. We never experienced them slowing down or stopping.
The connection across the devices are established pretty quick and they stayed connected
The files are secured with a strong security technique
It supports major cloud storage platforms
The fact that it's available for iOS, Mac, Android and Windows devices totally defies the file transfer limitations across these operating systems.
The Android app and web version is free
The video and music download feature
And that it has NO ADS!
Cons:
The QR codes on the computer software did not load right away, we needed to refresh it couple of times for the code to appear
We were gonna try the media downloader, unfortunately, it said that an error occurred during the searching process.
Suggestions:
"Dark Mode" option for the mobile app and the computer software
Sort/rename options for the web version
Optimize the QR code generator
For any connection problem, you can refer to this article:
How to Fix: Android File Transfer Could Not Connect to Device
We hope you enjoyed this review as much as we do. Have you used AnyTrans? Share any experience you had with this app in the comments below!
*This is a sponsored post by AnyTrans.