If you've been following, you must've heard that some Chinese variants of the Honor 8 Pro, i.e. Honor V9, have started receiving the Android Oreo update. This is an official update from Huawei although it is still in the testing stages. Which is why only users whose devices are enrolled in Huawei's beta program have been receiving the update. But we do have the EMUI 8.0 firmware for DUK-AL20 so that means you can install it on your device without enrolling in any program. To install the update you must have the Honor V9 (DUK-AL20) and not the international variant, Honor 8 Pro.
The update based on Android 8.0 Oreo runs EMUI 8.0 on top of stock Android and there are not a lot of EMUI centric changes. You can read a lot more about the new features and about the whole update in general here. You can also download the firmware from the link at the bottom of that post. But we'll also have the links below in the downloads section on this page. If you want to take a look at the official changelog here it is.
Firmware Info
Device – Honor V9
Model – DUK-AL20
Android Version – 8.0
EMUI Version – 8.0
Firmware – B315
Build Number – DUK-AL20 8.0.0.315 (C00)
Region – China
Status – Official
Type – Full firmware image
Downloads
Warning
The firmware download and the installation process described below is specifically for DUK-AL20 that is the Honor V9. Do not try to install it on an Honor 8 Pro or any other device. Although the firmware is officially from Huawei, it is a beta software and there are bound to be bugs. We cannot guarantee whether your device's warranty will remain intact if you choose to follow the guide below. Follow this at your own risk. DroidViews cannot be held responsible if you end up harming your phone in any way.
Requirements
You'll need to have unlocked the bootloader on your Honor V9.
The device must also have TWRP custom recovery installed.
Ensure that your device has at the very least 50% of battery left so as to prevent an accidental shutdown.
Installing a new firmware on your device can be a bit risky. Even though this is simply an update and shouldn't clear your data, one can never be a 100% sure. If things go south you may lose important data. As such, it is advisable to back up all your important data beforehand.
Your Honor V9 must already be running on the stock firmware from Huawei.
Install Android 8.0 Oreo On Honor V9 (8.0.0.315)
Download all the three zip files from the Downloads section above and transfer the files to your Honor V9's internal storage.
Power off your device now. Once it has shut down, press and hold the Volume Up button and then power on the device whilst holding Volume Up. Keep both the Volume Up and Power keys pressed until you see the Huawei logo. At this point, you can let go of both the buttons, but just to be sure, only let go of the Power button. Keep holding the Volume Up button until your device boots into TWRP recovery. 
In the TWRP recovery, you can select Backup and take a NANDroid backup of your current stock firmware along with all the apps and data. It's optional and will take quite a while but better safe than sorry.
When you're ready, select Install in the TWRP main menu and then navigate to the file named update.zip.
Select it and swipe at the bottom to flash it.
Similarly, install update_full_DUK-AL20_all_cn.zip and update_data_full_public.zip files in that order.
Once it is all complete, tap on the Reboot system button at the bottom.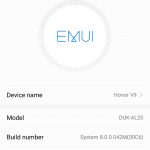 It is possible that the first boot may take a while and it's nothing you should get worried about. When your device boots up, you may not notice a lot of changes right away since EMUI 5.1 and EMUI 8.0 don't have many differences on the surface. You can check if you were successful by going to Settings > About phone.