Peacock TV, renowned for its extensive content library and user-friendly interface, has become a popular choice for streaming enthusiasts. If you're eager to activate Peacock TV on your Samsung Smart TV, you're in the right place. In this detailed guide, we'll walk you through the step-by-step process to ensure a seamless activation
About Peacock TV

Peacock TV offers a versatile streaming experience with accessibility across a wide range of devices. Users can enjoy seamless entertainment on LG Smart TVs (webOS 3.5 and higher), Samsung Smart TVs (Tizen OS 3.0 and higher), and Vizio SmartCast TVs from 2016 onwards. Additionally, Android TV users with version 5.0 or higher can also access Peacock's extensive content library. 
For those who prefer to cast content, Chromecast devices provide an excellent option. Moreover, Apple enthusiasts can relish Peacock TV on both Apple TV HD and Apple TV 4K models. With this broad spectrum of device compatibility, Peacock TV ensures that viewers can enjoy their favorite shows and movies on their preferred screens, providing a tailored and immersive streaming experience for all.
Accessing Peacock TV on Samsung Smart TVs
Before we begin, ensure that your Samsung Smart TV is connected to the internet and that you've set up a Samsung account on the TV.
Step 1: Navigate to the "Apps" Section
Use your remote control to access the main menu on your Samsung Smart TV. Scroll down or navigate to the "Apps" section. This is where you'll find various applications available for download.
Step 2: Search for "Peacock"
Within the "Apps" section, use the search function (usually denoted by a magnifying glass icon) and type in "Peacock". This action will bring up the Peacock TV app.
Step 3: Download and Install Peacock TV
Select the Peacock app from the search results. Proceed to download and install it on your Samsung Smart TV. This may take a few moments depending on your internet speed.
For Game Consoles (Xbox, PlayStation)
Visit the app store on your console and search for "Peacock TV."

Download and install the app, then open it to start streaming.
For Streaming Devices (Roku device, Amazon Fire stick TV, Chromecast)
Access the app store on your device and search for "Peacock TV."

Download and install the app, then launch it to begin streaming.
Activating Peacock TV
Once the Peacock app is installed, follow these steps to activate it:
Step 1: Open the Peacock App
Launch the Peacock app on your Samsung Smart TV. You'll be greeted with a prompt to activate the app.
Step 2: Retrieve the Activation Code
The app will display a 6-digit activation code on your TV screen. This code is unique and necessary to link your device to your Peacock TV account. Take note of this code as you'll need it in the next step.
Step 3: Visit peacocktv.com/tv/samsung
On a computer or mobile device with internet access, open a web browser. In the address bar, type: peacocktv.com/tv/samsung and press Enter.
Step 4: Enter the Activation Code
Input the 6-digit activation code displayed on your Samsung Smart TV. Double-check to ensure it's entered correctly.
Step 5: Sign In or Create an Account
If you already have a Peacock account, sign in using your existing login credentials. If not, you'll need to create a new account by providing your email and creating a password.
Step 6: Completion
Once signed in or your account is created, your Samsung Smart TV will be successfully linked to your Peacock TV account.
After completing the activation process, return to the Peacock app on your Samsung Smart TV. You should now have full access to the content library, including TV shows, movies, and original programming.
Troubleshooting Tips
If you encounter any issues during the activation process, consider the following:
Double-Check the Activation Code: Ensure that you've entered the activation code correctly.

Internet Connection: Make sure your Samsung Smart TV is connected to a stable internet connection.

Visit the Peacock Help Center: For additional support, visit the

Peacock Help Center

on their website.
Exploring Peacock TV Subscription Tiers
Peacock TV offers various subscription tiers, catering to different preferences and budgets. Here's a detailed breakdown: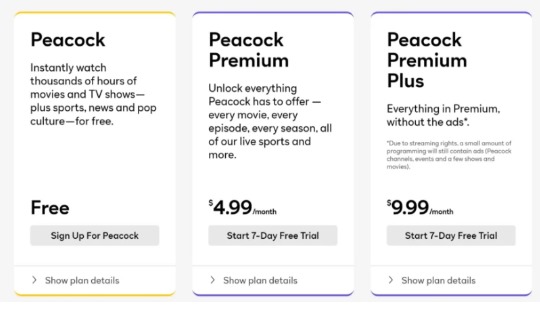 1. Free Version
The free, ad-supported version of Peacock TV allows access to a selection of TV shows, movies, and original content without the need for a subscription. However, it comes with some limitations, including occasional ads during content playback.
2. Peacock Premium tiers
Cost: $4.99/month with ads or $9.99/month without ads.
Benefits:
Ad-free streaming

Access to a wider content library, including exclusive originals

Next-day access to current seasons of NBC shows

Early access to new episodes of some Peacock original series

Live sports coverage, including Premier League matches
3. Peacock Premium Plus
Cost: $9.99/month with ads or $14.99/month without ads.
Additional Benefits:
All benefits of Peacock Premium

Downloadable content for offline viewing

Ability to register up to six devices to your account
Why Choose Peacock TV?
Peacock TV stands out for several reasons:
Vast Content Library
With over 80,000 hours of entertainment, Peacock offers a diverse range of content, including NBC hits, movies, sports programming, and original series.
Free Tier
The free version provides access to a substantial amount of content, making it an excellent option for those on a budget.
Unique Tiered Structure
Peacock's tiered structure allows users to choose a subscription plan that suits their preferences, whether it's ad-supported or ad-free.
Conclusion
Peacock TV offers a diverse and extensive range of content, making it a compelling option for streaming enthusiasts. Whether you opt for the free version or a premium subscription, Peacock provides an array of choices to cater to different viewing preferences. By following the activation steps and exploring the supported devices, you can enjoy seamless streaming of your favorite shows and movies.
FAQS
Can I stream Peacock TV using Xfinity Internet?
Yes, Peacock TV is compatible with Xfinity Internet. You can enjoy seamless streaming with a stable Xfinity Internet connection.
Which devices support Peacock TV for streaming?
Peacock TV can be accessed on various devices, including Fire Tablet, Amazon Fire Stick, Amazon Firestick, and more. It's compatible with popular web browsers like Firefox, Safari, and Ms Edge.
Is the Peacock TV activation code a one-time use?
Yes, each Peacock TV activation code is unique and can only be used once for device activation. If you have multiple devices, you'll receive separate codes.
Also Read: Best Android TVs You Can Buy