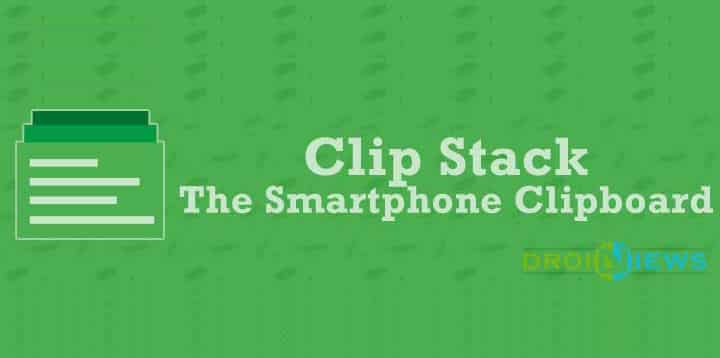 A few days ago I had reviewed a nice little app called Easy Copy had improved how you could easily copy and paste text from various locations in your smartphone. This is a handy feature but its only good if the text copied is the same and at that instant. It's actually a major disappointment that the Android system doesn't own an in-built clipboard like we have in our PCs. That's where Clip Stack comes in.
Clip Stack is an app that will help you overcome that problem. It remembers all text you have ever copied in your smartphone and allows you to use that text whenever and wherever. It supports all smartphones running Android 4.0 and above, but they prefer if you are running 5.0 Lollipop.
Features
Unlimited Clipboards: Clip Stack can remember all your clipboard history and recover text after reboot. It's a clipboard manager, a user friendly notebook. You can easily copy, share, star, delete, and merge every text.
Works Everywhere: Whatever phone, tablet, and wear, all Android devices are supported. (Sync feature will comming in the next version.)
Powerful Notification: You can switch the recent 5 texts just in notification. Notification will be displayed only when copying new text and you can dismiss it by swipe.
Floating Bubble: Floating bubble provides another easy way to access all texts without opening app. For Android 5.0 Lollipop or above, floating bubble can follow the keyboard and auto show & hide when typing!
Auto Clean Up: Using Android 0 Lollipop's new JobScheduler API, Clip Stack can automatic clean up its catches and RAM when charging.
Interface
Clip Stack has a very simple and minimalistic interface with Material Design to keep up with the latest design standards from Google. Once you open the app you are presented with the list of the texts you have copied. From here you can:
Swipe to Delete
Press and Hold to copy that text
Click once to start editing that text.
You can also assign stars to important texts which you might use more often than the others, and to top it off is the search bar.
Final Say
After extensively using this app I must say this app is a true winner in actually making it easier for us to freely copy text and then use it some other time. Combine this with Easy Copy and you will have absolutely no trouble in handling text. So go ahead and give it a try using the link below
If you want me to review any other app or have anything more to add on this review do let us know in the comments.