This week on the Google Play Store, there is an interesting list of paid apps and games that are available for free. We tried and picked the best of the bunch so that you don't have to try and install everything. Our picks today include four paid apps and games for free and an icon pack.
Hexanet White – Icon Pack
[googleplay url="https://play.google.com/store/apps/details?id=com.panotogomo.iconpack.hexanet"]
Most icon packs that start out as paid icon packs and are later given for free on sale, we'll be honest, are not quite as good looking, or at least classy. Hexanet White is an icon pack though that fully deserves its $0.99 price tag. It features beautiful transparent white icons with a honeycomb net backplate shaped like a hexagon. This is not only a fresh idea for white icons, but it also looks great and with the right launchers, you could create really beautiful setups. There are 5000+ icons in the pack and it also provides backgrounds for unthemed app icons. The app also contains 36 wallpapers to go with the icon pack. So grab this paid icon pack while it is free, and it is free for 6 days.
2. Touch Block Pro
[googleplay url="https://play.google.com/store/apps/details?id=jp.snowlife01.android.touchblock"]
With the side bezels on smartphones getting ridiculously smaller, and the screens getting taller, one-hand usage is a big problem. Manufacturers are obsessed with reducing the bezels and usually, it's the side bezels that take the hit. The situation gets even worse with curved screens that flow down towards the sides. Some OEMs like Samsung have been doing it for many years. As a result, Samsung phones generally have better palm rejection. Some others are new to this, like Huawei or OnePlus. If you've used a OnePlus 7 Pro without a case, you know the curved edges are a big problem.
Touch Block Pro exists only to prevent unintentional touches on devices with bezel-less screens. It places filters on both sides of the screen to block all touch responses. That may not be something you want. Ideally, you'd want your "smart" phone to figure out the difference between your finger and your palm, at least, if not an accidental touch and an actual touch. But this is not an ideal situation and for now, the solution isn't ideal either. Regardless, this paid Android app is free for the next 5 days after which it will cost $2.99.
3. Quick Reminders
[googleplay url="https://play.google.com/store/apps/details?id=leedroiddevelopments.quickreminder"]
Ever since persistent notifications were a thing on Android, developers have found clever ways to use it for all kinds of purposes. Quick Reminders is another such app and as you can guess, it uses the notification to remind you of things. The app allows you to add notes and reminders to a persistent notification on your device.
There are some note-taking features built-into it as well such as pinned notes, and favorite notes. Similarly, there are some basic reminder features such as repeat reminders every Minute, Hour, Day, Week or Month. Most of the features are related to the persistent notification, for instance, you can make it collapsible, set a highlight color, give it a high or low priority, etc. For the next two days, this paid app will be free and after that, it will cost you $0.99.
4. Archery Physics Shooting Challenge – Game
[googleplay url="https://play.google.com/store/apps/details?id=com.thekmtechnology.games.archeryphysicspro"]
If you've played and remembered the classic PC title, Thief, this game will feel slightly familiar. To be clear, this is in no way quite as good, it's a totally different game. But the archery mechanics from Theif are very similar to what you get here. Archery Physics Shooting Challenge requires you to hit your targets but there's no hurry. You can take your time to aim and land the perfect shot.
Keep in mind, an arrow is not a bullet and the projectile motion is much more pronounced. There are about 70 levels, an action-based camera with slow-motion effects, easy single button control, and some beautiful maps and environments. The graphics of the game are pretty good but not quite as breathtaking in 2019. But hey, if you grab it in the next 6 days you're essentially getting it for free so no complaints. Afterward, it will cost you $0.99.
5. Project Archery: Shoot Apples With Physics – Game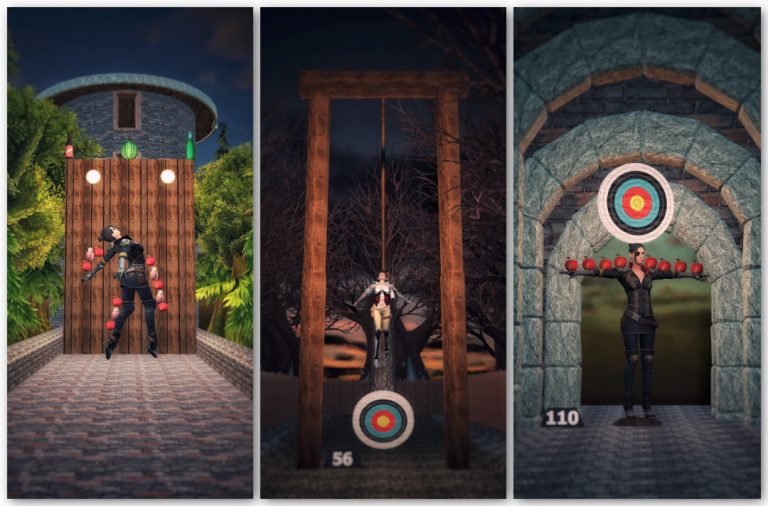 [googleplay url="https://play.google.com/store/apps/details?id=com.makmatics.forestlandarchery"]
If you couldn't tell from the screenshots already, Project Archery is another title by KM Technology, the developers of Archery Physics Shooting Challenge. It's pretty much the same game except this time you can shoot more than just Apples, despite what the title says. You can also shoot watermelons and glasses and watch them break in pieces in funny ways.
There are two modes in the game, one of which requires you to shoot objects and attain a required score. The other, called Destruction mode, requires you to break objects by shooting at them while taking into account the strong wind direction. For the next 6 days, this paid game is available for free which would otherwise cost you $0.99.
Try these paid apps and games right now and you will find them interesting.
Read next: Grab These 9 Paid Icon Packs for Free