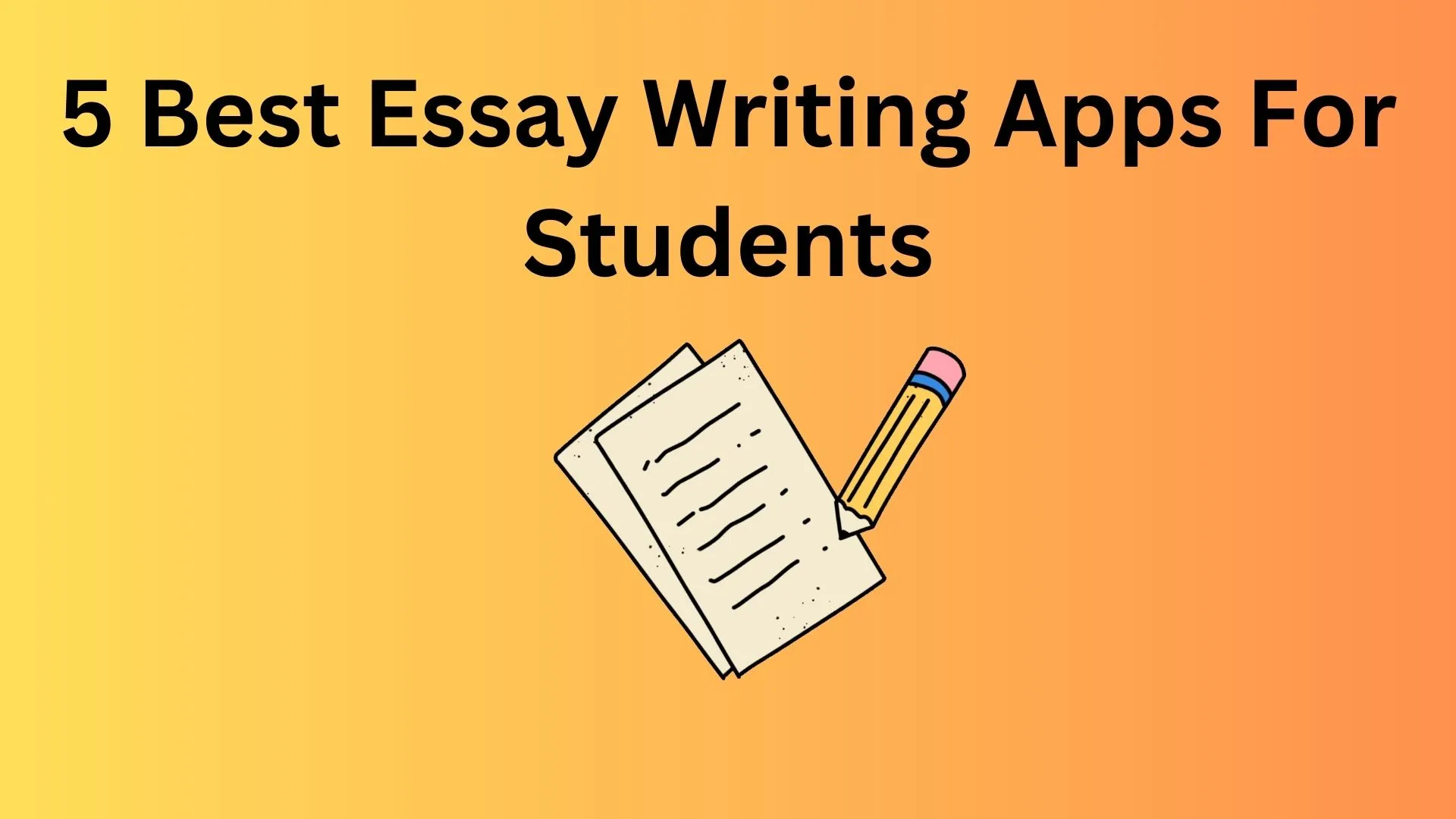 In the rapidly evolving realm of education and professional writing, the availability of essay writing apps has emerged as a game-changer. These apps serve as invaluable companions for students and academics, streamlining the writing process, enhancing grammar and readability, and ensuring the creation of high-quality content.
In this comprehensive review, we explore the best essay-writing apps available on iOS, Android, Windows, and macOS. These top 5 apps, including EssayPro, Scrivener, Microsoft Word, Evernote, and Grammarly, offer unique features tailored to diverse writing needs, making them versatile tools for essay writing across different platforms.
1. EssayPro: Elevate Your Essays with Expert Assistance
EssayPro.app is an online platform that offers academic writing services to students. It connects students with professional writers who can help with a wide range of writing assignments, such as essays, research papers, and dissertations. 
Users can choose a writer based on their qualifications and reviews, and the platform provides a collaborative environment for communication throughout the writing process. Keep in mind that using such services should be in line with academic integrity guidelines.
EssayPro stands as a beacon in the world of essay writing services. It connects students and academics with professional essay writers who craft customized essays, research papers, and assignments tailored to specific requirements.
Features: 
Expert Writers:

EssayPro boasts a team of skilled essay writers, each specializing in various academic disciplines and topics.
Customized Approach:

Collaborate closely with writers to ensure essays meet specific guidelines and academic standards.
Wide Range of Subjects:

From complex thesis projects to research papers, EssayPro caters to a diverse range of academic topics.
Compatibility

: Accessible through web browsers, EssayPro ensures seamless cross-platform access for users on Mac, Windows, Android, and iOS devices.
Pricing:

EssayPro's pricing varies based on factors such as essay complexity, deadline, and academic level. The transparent pricing system ensures you receive accurate quotes before placing orders.
Devices and Accessibility:

Enjoy the convenience of using EssayPro's services on a wide range of devices, including Mac, Windows, Android phones, iPhones, and iPads.
2. Grammarly: Your Comprehensive Guide For Essays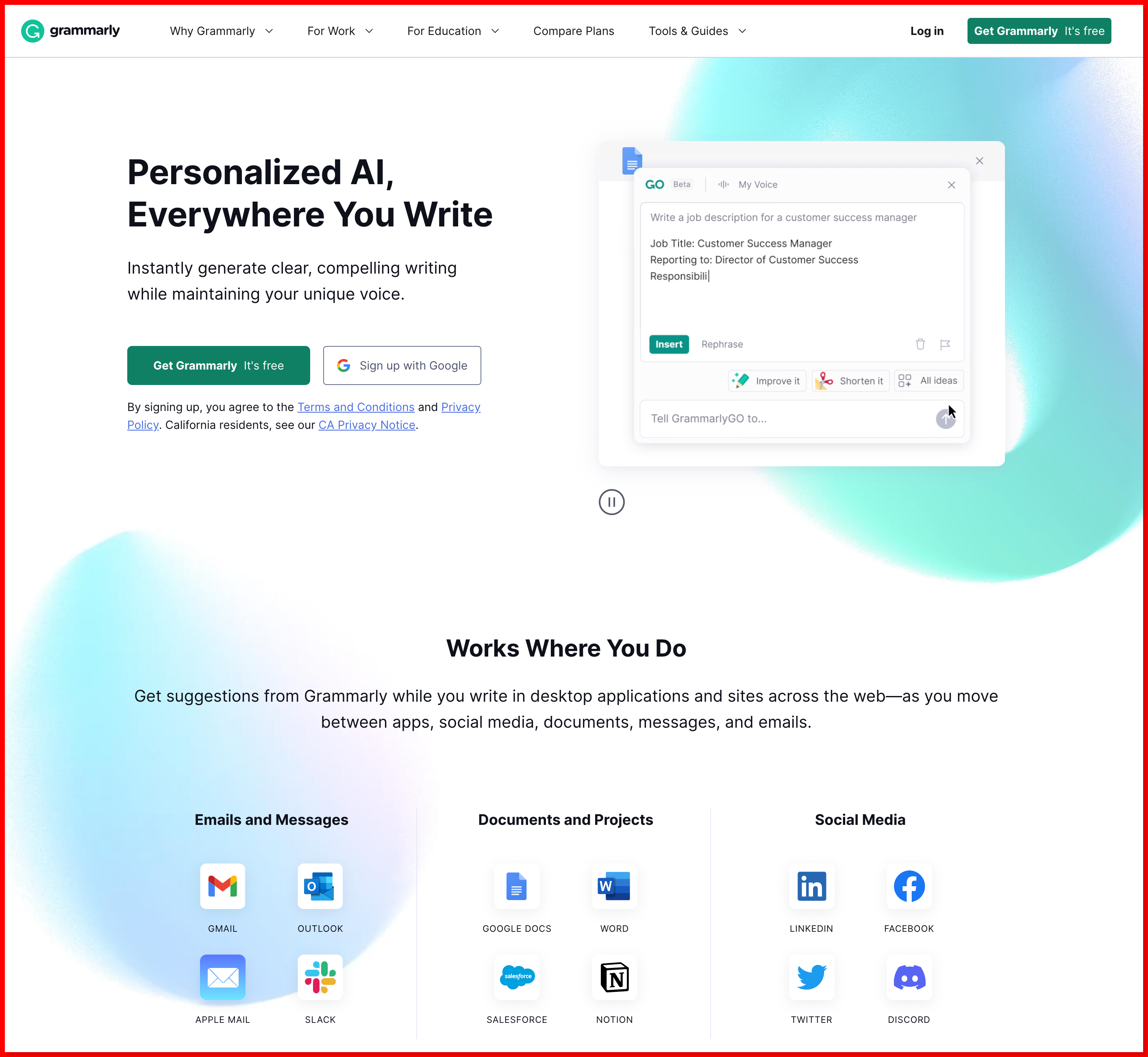 Grammarly is a widely used digital writing assistant that helps users improve their writing by checking for grammar, spelling, punctuation, and style errors. It provides real-time suggestions and corrections as you type in various text fields, including documents, emails, and social media posts. 
Grammarly also offers insights into sentence structure, tone, clarity, and word choice, making it a valuable tool for individuals looking to enhance their written communication skills.
Grammarly has earned its reputation as one of the best essay writing apps, offering advanced grammar and style checks.
Features
Advanced Grammar Checks:

Correct grammatical errors, spelling mistakes, and punctuation issues.
Style and Clarity:

Receive suggestions to enhance sentence structure and overall writing style.
Vocabulary Enhancement:

Explore synonyms and vocabulary improvements to elevate your writing. 
Compatibility

: Integrate Grammarly seamlessly into your writing routine on platforms such as Microsoft Word, Google Docs, and web browsers like Chrome. Grammarly also acts as a proofreader for the user's essay. The software also works as a plagiarism checker so that the document is not plagiarised.
Pricing

: Grammarly offers a free version with basic grammar checks. The premium version, starting at $29.95 per month, provides access to advanced features.
Devices and Accessibility:

Benefit from Grammarly's convenience across platforms, including Mac, Windows, Android, and iOS devices, ensuring your writing remains error-free on any device. 
3. Scrivener: Your Writing Companion For Complex Essay Writing Projects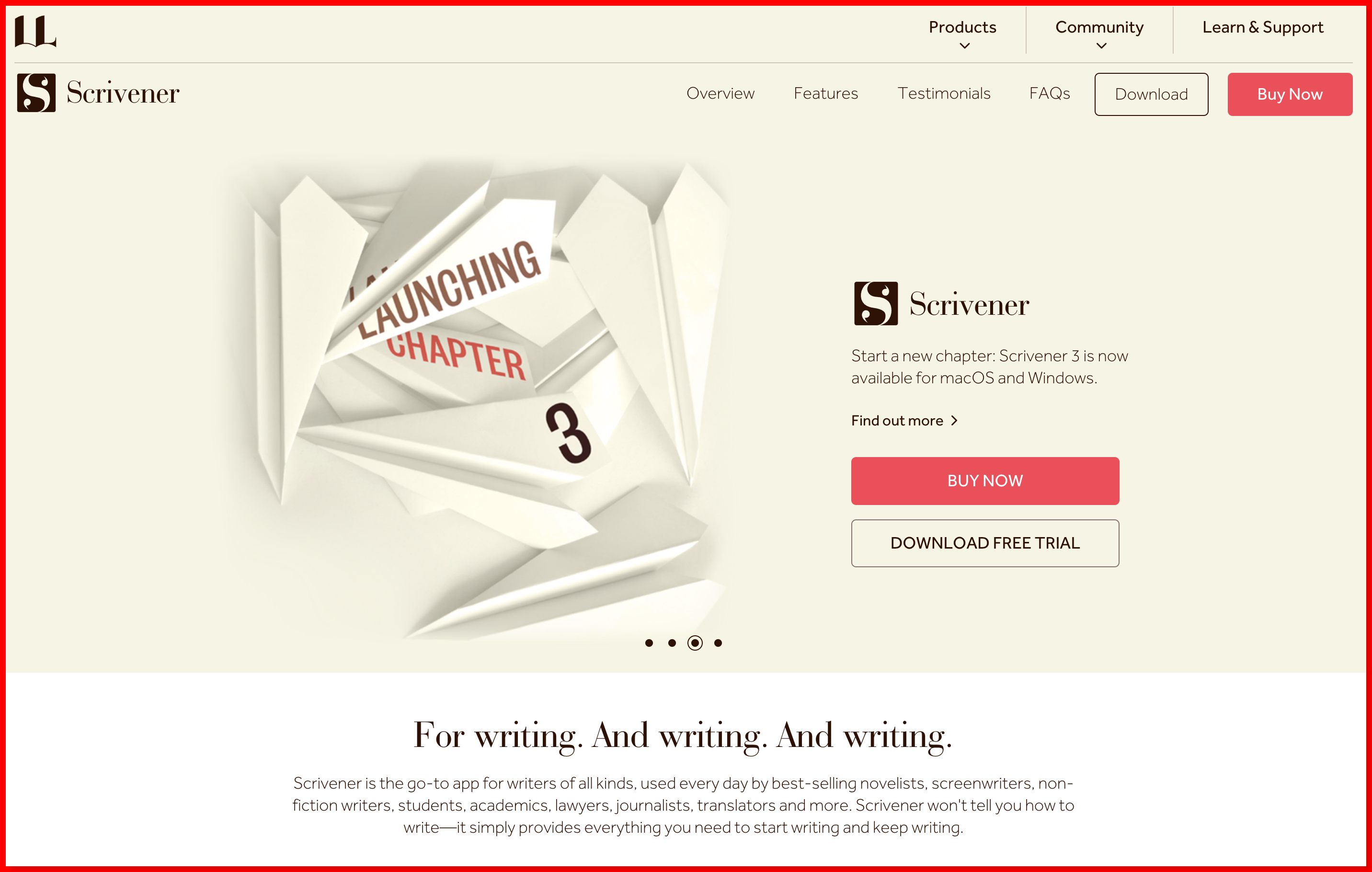 Scrivener is a powerful writing software designed to aid authors, screenwriters, and other creative writers in organizing and managing their writing projects. Unlike traditional word processors, Scrivener offers a range of features, such as a virtual corkboard, outlining tools, and customizable organization options. 
It allows writers to break down their work into smaller sections, view research alongside their writing, and maintain a cohesive structure throughout the writing process. This makes Scrivener a popular choice for those working on complex or large-scale projects. Making edits in Scrivener is also an easy task.
Features
Virtual Binder Interface:

Organize research materials, drafts, and diagrams with a digital binder-like interface.
Hierarchical Outlining:

Develop well-structured academic papers and theses with detailed outlining.
Distraction-Free Writing:

Enjoy a focused writing environment for drafting complex assignments.
Compatibility:

Available on both Mac and Windows platforms, Scrivener provides a stable writing environment for your academic pursuits.
Pricing

: Scrivener offers a one-time purchase option, with prices ranging from $49 to $79, ensuring a worthy investment in your academic writing endeavors.
Devices and Accessibility:

Embrace the dedicated writing space Scrivener offers on both Mac and Windows devices, enhancing your ability to manage intricate academic projects.
4. Evernote: Organize Research For Seamless Writing
Evernote is a versatile note-taking and organization app that helps users capture and manage various types of information. It allows you to create and store notes, images, web clippings, audio recordings, and more in a digital notebook format. With features like tagging, searching, and syncing across devices, 
Evernote makes it easy to access and organize your content from anywhere. It is commonly used for the personal and professional purposes, helping users stay organized and efficient in their day-to-day tasks and projects. 
Features
Note-Taking Excellence:

Capture and categorize research materials, quotes, and ideas seamlessly.
Web Clipping:

Save online articles and references directly to your notebooks for future reference.
Multimedia Integration:

Enhance your notes with images, audio recordings, and diagrams. 
Compatibility:

Evernote ensures cross-platform access with dedicated applications for Windows, Mac, Android, and iOS devices.
Pricing:

While Evernote offers a free version, the premium version, starting at $7.99 per month, provides advanced features and additional storage.
Devices and Accessibility:

Access your research materials and notes with ease on devices such as Mac, Windows, Android phones, iPhones, and iPads.
5. Hemingway Editor: Crafting Clear and Engaging Essays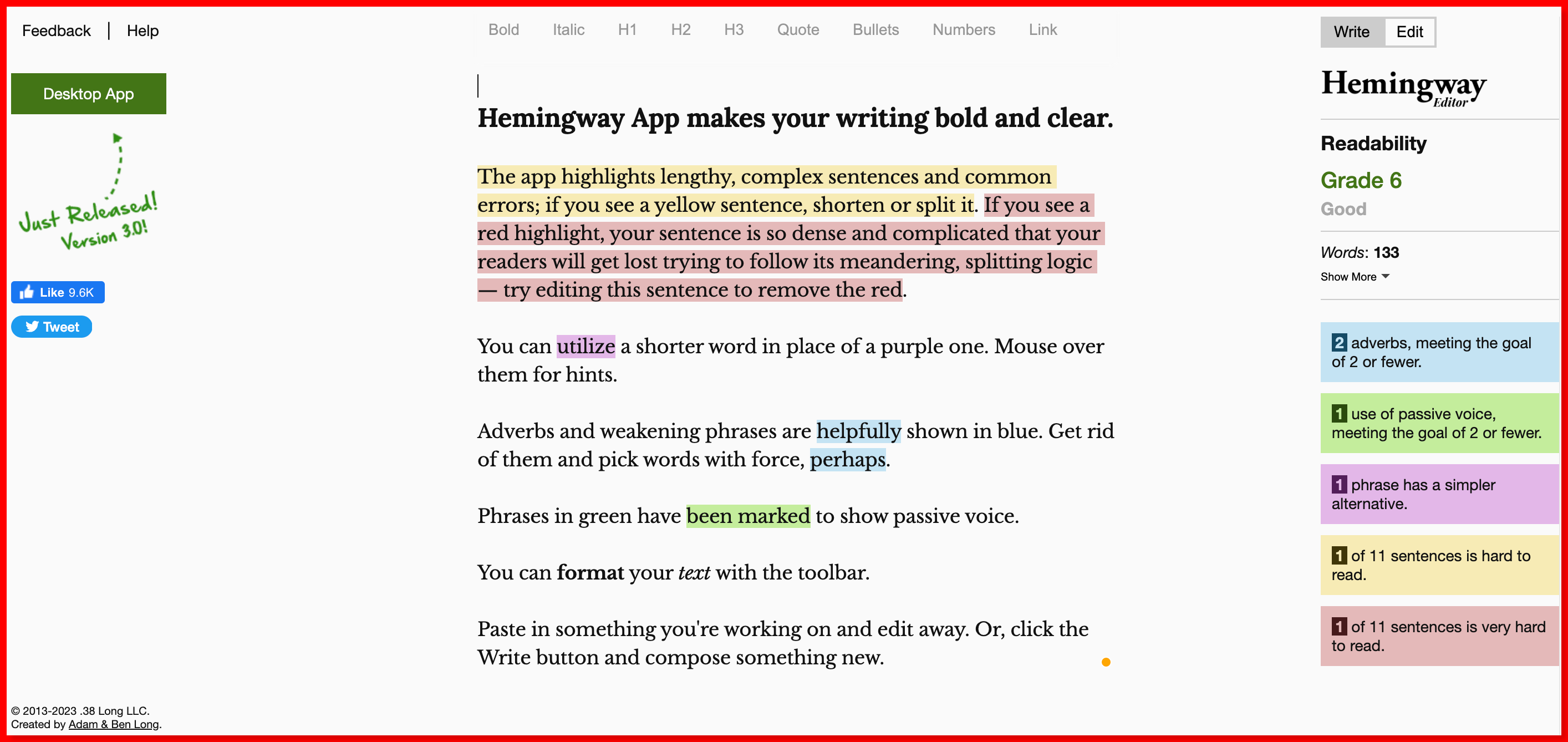 The Hemingway Editor is a writing tool that focuses on improving the clarity and readability of your text. Named after the renowned writer Ernest Hemingway, the editor highlights complex sentences, passive voice, adverbs, and other potential issues in your writing. 
It assigns a readability score and suggests improvements to make your writing more concise and impactful. The tool is especially useful for individuals seeking to enhance the simplicity and effectiveness of their prose, making it easier for readers to understand and engage with the content.
Features
Readability Enhancement:

Simplify sentences and enhance the overall clarity of your essays.
Passive Voice Detection:

Identify and replace passive voice with active alternatives for more engaging writing.
Instant Feedback:

Gain real-time feedback on your writing style and readability score.
Compatibility:

Accessible through web browsers and available as a desktop application for both Mac and Windows, Hemingway Editor offers cross-platform convenience.
Pricing:

Hemingway Editor provides a free online version with limited features. The desktop version, available for a one-time purchase of $19.99, offers additional functionalities. 
Devices and Accessibility:

Experience the benefits of Hemingway Editor's readability enhancements on both Mac and Windows devices, ensuring your essays are clear and engaging.
Things To Consider While Selecting Essay Writing Apps 
When choosing an essay writing app for students and academics, it's important to consider several factors to ensure that the tool meets your specific needs and helps enhance your writing and research process. Here are the points to consider:
Features And Functionality
Prioritize apps with robust features like grammar and spell checking, plagiarism detection, and style suggestions to enhance writing quality and adherence to academic standards. 
Look for those with research tools, such as citation generators, to streamline academic research.
User Interface And Ease Of Use
Choose an app with an intuitive interface that minimizes the learning curve. Ensure it's available on various platforms to allow seamless work across devices.
Cost And Accessibility
Consider your budget and evaluate whether the app offers a free version with basic features, student discounts, or trial periods for testing. Ensure the cost aligns with your needs.
Privacy And Data Security
Check the app's privacy policy and data security measures to guarantee the confidentiality of your research and writing. Verify if it uses encryption for added security.
Customer Support And Updates
Prioritize apps with responsive customer support through email, chat, or phone. Frequent updates indicate a commitment to improving functionality and fixing issues.
Compatibility With Citation Styles
Ensure the app supports various citation styles (e.g., APA, MLA) for academic writing, making referencing and formatting easier and more accurate.
Collaboration Features
If you collaborate frequently, choose apps with real-time editing and commenting to facilitate teamwork on essays and research papers.
Integration With Other Tools 
Look for apps that integrate with other essential tools such as cloud storage services or academic databases to enhance your workflow.
Offline Accessibility 
Consider whether the app allows you to work offline, ensuring productivity even without an internet connection.
User Reviews And Recommendations
Read reviews and seek recommendations from peers to get insights into real-world experiences with the app. This can help you make an informed decision based on user feedback.
Conclusion
In the world of academic writing, these essay writing apps serve as indispensable tools, whether you're seeking expertly crafted essays, refining your grammar and style, managing complex research projects, or focusing on readability. Across platforms and devices, these apps offer cross-platform compatibility, ensuring users writing experience remains distraction-free and productive. 
A user should embrace these essay writing tools to elevate their writing skills, enhance their quality of essays, and embark on a journey of academic excellence. With money-back guarantees, free versions, and premium options, each of these apps brings a unique contribution to the user's writing endeavors, ultimately enriching the academic experience and achievements.
Frequently Asked Questions (FAQ) 
Which app is best for academic writing?
EssayPro, Evernote, and Scrivener are popular choices for academic writing. Evernote is versatile for note-taking, research, and organization, while Scrivener's advanced tools are great for structuring and managing complex writing projects.
Is EssayPro suitable for academic integrity?
EssayPro's services are intended to provide writing assistance and should be used ethically, adhering to academic integrity guidelines. Directly submitting purchased content as one's own work is generally discouraged.
Does Hemingway Editor work offline?
Yes, Hemingway Editor can be used offline. However, the web version requires an internet connection to access the tool initially.
Is Grammarly compatible with mobile devices?
Yes, Grammarly offers mobile apps for both iOS and Android platforms, allowing users to access its features on the go.
Can Scrivener export to different formats?
Yes, Scrivener offers a wide range of export options, allowing you to save your work in various formats, including DOCX, PDF, e-books, and more.
Can essay writing apps replace the need for proper writing skills?
While these apps are valuable tools, they are not a substitute for developing strong writing skills. They can assist in proofreading and formatting, but it's essential to cultivate your writing abilities through practice and learning.
Are there any ethical concerns with using essay writing apps, particularly in academic settings?
The ethical use of essay writing apps is essential. While they can assist in writing and research, they should not be used to plagiarize or submit work that is not your own. Always adhere to academic integrity standards and use these apps as aids in your writing process.
Do essay writing apps work offline?
Some essay writing apps offer offline functionality, allowing you to work without an internet connection. This can be useful for students who need to write in places with limited connectivity.
What features should I look for in an essay writing app as a student or academic?
Key features to consider include grammar and spell checking, plagiarism detection, citation generators for different styles (e.g., APA, MLA), research tools, real-time collaboration, and export options in various formats (e.g., Word, PDF).
Can essay writing apps help with research and referencing?
Yes, many essay writing apps offer research assistance by providing access to academic databases and helping with citation management. They can help you locate relevant sources and properly format your references.