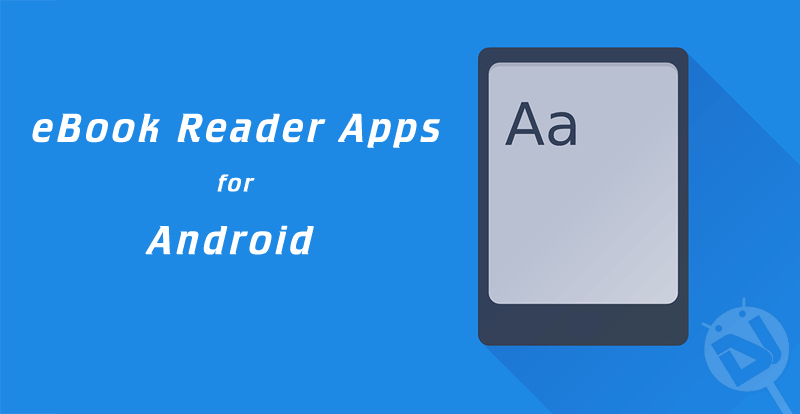 An eBook reader is one of the most crucial apps for the people who are prefer reading books on a digital screen. The app is more than just a reader, a good ebook app has a manager to manage multiple eBooks, a clean UI interface for flipping pages and smooth performance void of lag and crashes.
Here is a list of apps, each detailed and reviewed for you to choose the best one for you.
Aldiko Book Reader
The best thing about it is, this app is free. It allows you to adjust text size, brightness, fonts, colors, alignment, line spacing, bookmarks, and many other much-needed features. It can also remember the last page you were on. So, if for some reason you abruptly has to shut your app, you can pick up from where you left.
You can also import PDFs and EPUB files, and maintain, organize collections and tag books using Aldiko. All in all, it is a good and pretty simple app, worth a try.
[googleplay url="https://play.google.com/store/apps/details?id=com.aldiko.android"]
Google Books
Coming from the house of the Google, it has its own advantages. It is free, and you have a mega support of books from Play Store. With this app, you can pick where you left and additionally can highlight the text and even make a note when reading an ebook. If that was not enough for you, there is also an offline mode to read all your collections when not on the internet.
[googleplay url="https://play.google.com/store/apps/details?id=com.google.android.apps.books"]
Amazon Kindle
Kindle is the most popular ebook reader already, and there is a reason for its huge success – the Kindle Store. Magazines, newspapers, books and all those New York Times bestsellers under one roof. It has a built-in dictionary and is accessible while reading a page.
Kindle also allows Google Search and Wikipedia linkage as well. Other features include, bookmarks, note making and font or appearance customization. The best thing is, you can download this for free and once a book is downloaded, it can be accessed from all the connected devices.
[googleplay url="https://play.google.com/store/apps/details?id=com.amazon.kindle"]
Kobo Ebooks
If it is an uber-cool edge you are looking for your new eBook reading app, this must be your muse. Kobo Inc., has thousands of interesting titles that come with this app. A lot of the positives about the store, which always has fresh varieties and lets you share quotes, ideas and more for free.
It also allows you to post comments on the books you read online and interact with like-minded book lovers. The bottom line is, this app has a bit of social interaction over the amazing store titles it scores.
[googleplay url="https://play.google.com/store/apps/details?id=com.kobobooks.android"]
Moon+ Reader
Yes, Moon+ reader, no typo there. It is for free as well, and interestingly it has UI effects taken very seriously. It features, 5 unique page turning and flipping effects, zooming, and brightness options in an impressive format. It supports PDF and EPUB formats too.
It is also integrated to DropBox for your backups. By far this is the most additive feature of an ebook app we discussed. This app is in for people who like better with charm.
[googleplay url="https://play.google.com/store/apps/details?id=com.flyersoft.moonreader"]
Which one is your pick ? Do share your views and experiences in the comments below.