When you think of gaming, you hardly ever think of Chromecast. But if you do have a Chromecast and you play games on your Android, you've surely wondered whether you can cast your Android games to your TV as well. The answer, in case you haven't yet found out, is yes. Chromecast was never meant for gaming but that doesn't mean there aren't some quality games you can play on it. Although, it's not really a comfortable experience with most games where you have to look down at your screen constantly so you touch or swipe correctly. Anyways, here are some great games you can play on your Chromecast. Most of these don't require you to take your eyes off your TV screens.
1. RISK: Global Domination
Everybody wants to rule the world! Now you can, with a new way to play the classic game of RISK. Play on your TV with Chromecast for the ultimate living room experience or take the battle online with Global Domination mode (must be over 13). Defend your territories, draft troops, and launch attacks for the ultimate conquest against friends, family, and foes. Try the game for free or unlock for unlimited mobile play!
The classic board game has been digitally present on the PC for quite a while and it's Android iteration is just as much fun. The game is truly fun if you are into intelligent games. It's free and without ads but you only get limited play per day. This can be extended with in-app-purchases that range from $0.99 to $5.99.
2. Monopoly Here & Now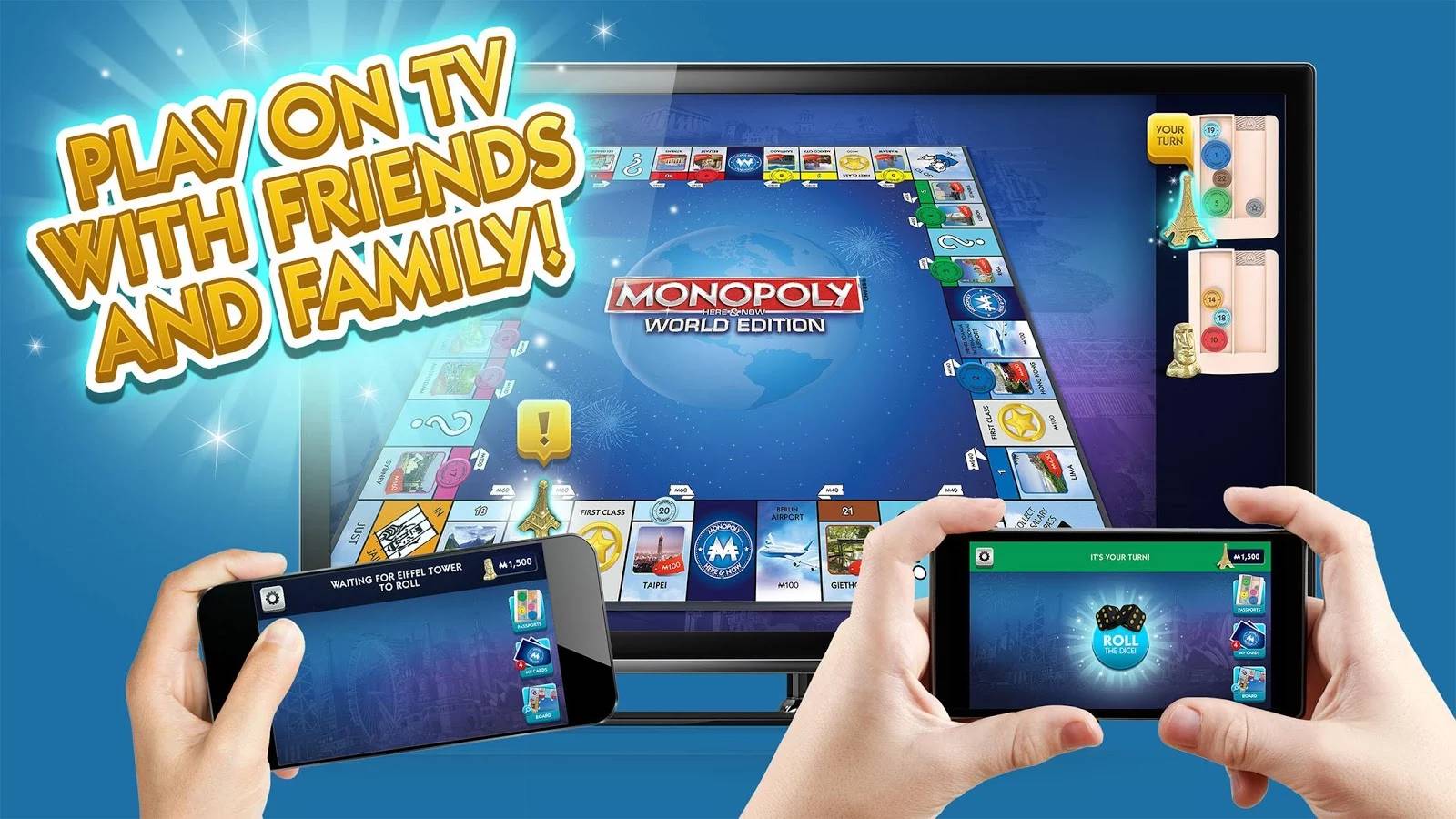 Update: Tha game is not available now in the Play Store
The NEW MONOPOLY HERE & NOW app takes the newest version of the board game outside the box. Download the game app and watch as the animated, 3D board and game pieces come to life as you play your way around the world. Gather your family or friends and get ready for this globetrotting variation on a classic board game. Download the MONOPOLY HERE & NOW app today and try it for free! Pay once to unlock unlimited play!
Another classic family board game remade in 3D for your smartphone. There are quite a few Monopoly games on Android so you do have a choice. If you want to play monopoly with your family though you might want it on a bigger screen such as your TV. Monopoly Here & Now has Chromecast support, obviously since it's on this list, and contains a single player mode as well as a multiplayer mode. All it demands is that everyone you're playing with has the app installed on their phone.
3. Andry Birds Friends
All of the classic bird-flinging, pig-popping satisfaction of the original Angry Birds game, condensed into bite-sized, competitive tournaments – each with 6 new levels. Challenge your friends and the whole world for a top spot on the leaderboards and in the global leagues. Then, challenge other players one-on-one in the Star Cup to earn incredible rewards.
Andry Birds need no introduction at this point in time with several successful mobile titles and a not so successful movie. Angry Birds Friends takes the slinging based gameplay of the original title and divides it into small competitive tournaments. Two new tournaments are added every week and your goal is to be the best Angry Birds player ever by climbing up the leaderboards.
4. Alien Invaders
You need a Chromecast or Android TV to play this game on your phone or tablet.
Help defend the Earth from alien invaders from space!
Alien Invaders is a simple free joyful multiplayer game you can play with your friends and family. Up to six people can play simultaneously.
You can play with your friends no matter if they got an iOS (iPhone, iPad) or Android (phone, tablet) device.
Oh, look! Another classic! Or at least a replica of the original. Alien invaders is a simple, yet addicting, Space Invaders clone that can be played by up to 6 people simultaneously. This game was actually meant to be played on your TV. Meaning you must have a Chromecast or Android TV to play this game. There is, for some reason, a bit of lag here and there no matter how powerful your device is or how fast your WiFi is. But at least its completely free.
5. CastNES – Chromecast Games
Play your favorite NES games on your Google Cast device! It is compatible with almost all NES games ever made and runs perfectly on any phone or tablet.
So this is not exactly a game you can play but an app that'll let you play games. Since we were taking a look at some of the classics, what's more classic than the Nintendo Entertainment System (NES)? Many of us still fondly remember those games we used to play – Mario, Battle City, etc. CastNES gives you the ability to play those games on your TV, using your Android as a controller. The touch-based controls are somewhat enhanced by tactile feedback. It's no match for an actual controller but something is better than nothing.