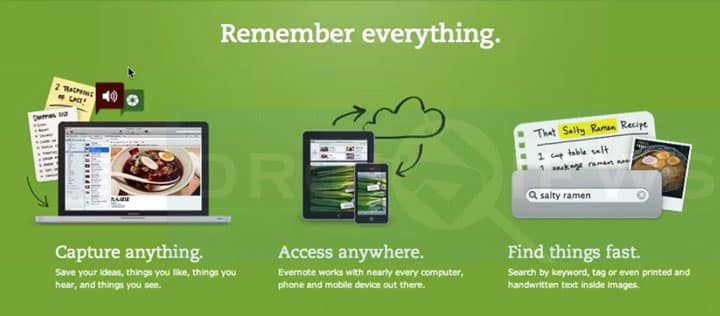 Sometimes remembering stuff at the right time can be tricky or even impossible at times. We note down numbers, addresses etc on paper or scratch but we cannot carry it everywhere we want or many times we misplace it and we find it difficult to remember.
However, with advances in Android many applications have been developed that will help you remember things or help you note down everything be it a scribbled number, an idea, birthdays etc.
If you are seeking for Android apps that will make you remember everything and make your work easier and quicker than usual, then you have come to the right place. Here are some Android Apps that will make your work well organized and help you remember everything using notes, images and to-do lists.
Evernote
Evernote comes with dozens of bundled features when it comes to taking notes.You can write notes, upload images images as part of your notes, paste scribbled phone numbers or even upload voice messages to remember when you need it. Moreover, you can organize web articles, documents and photos to keep things organized.
Discussing your work right within the app is a significant feature that has been added to Evernote. With lots of options to edit your work, Evernote becomes a modern tool for everyone who wants to stay organized. You can set reminders at suitable time and place and never forget a thing.
Evernote syncs across all your devices so that you can keep up your work through PCs and tablets even when you are not around your mobile phone. Plus all your work is uploaded over cloud and whenever you connect with Evernote all your work is at its place so you are never left in the lurch.
The free version comes packed with many useful features; however, the paid version gives you additional and advanced features to make things better. The Evernote Business Edition is paid and is very helpful in the corporate world to save projects, research, and lots more.
Google Keep – notes and lists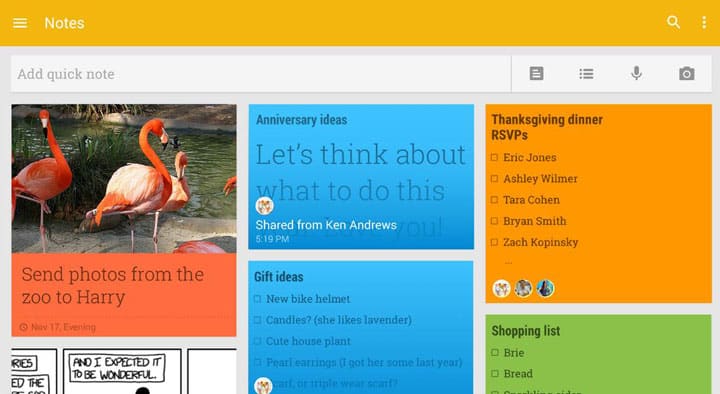 Google Keep is a highly productive Android app from Google itself. This is a very effective app when it comes to capturing memories. This helps to quickly capture whats on your mind and reminds you of it at right time and place.
Google Keep comes with many essential features like to-do list, notes, ideas, capture photos on the go, set reminders and lots more. You can also send photos and gift cards to your contacts with messages and set reminders too via Google Keep.
Basically, Google Keep is well organized and easy to use app to capture memories and scribble some ideas on the go. You can also work offline and sync your data for later. Google Keep has always been free and comes with useful features.
Pocket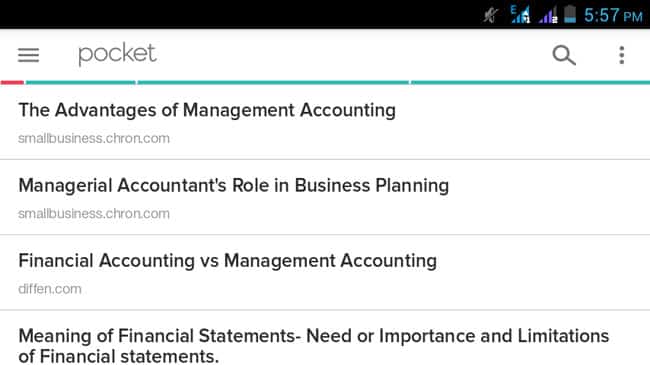 Pocket is a bookmarking app that syncs across all your devices. You can save articles, videos and other web content for later use. The user interface is quite beautiful and shows you the highlights of the bookmarked articles and pages unlike regular browser where you see only a link and no description.
This has a built-in reader that lets you read articles right within the app and an option to open them in your browser too. Functions to archive, refresh, favorites and category lists are available.
Pocket syncs across all your devices and major advantage is that you can save the articles for offline use. This is a good app to save or bookmark important articles to read them later.
Remember The Milk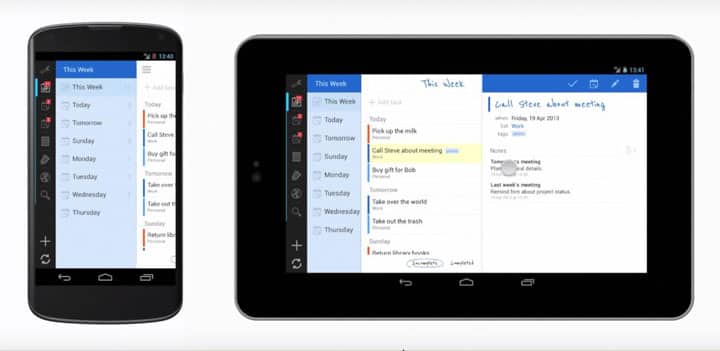 This is another Android App that will make you remember everything and anything. With Remember The Milk you will never forget a thing as it comes packed with loads of functionalities . This app provides the privilege to schedule your whole week on the go. Adding lists, tags, search, set priorities, due dates, time estimates, repeating are some of the many features of Remember the Milk.
Like others this also has the ability to sync across all your devices. You  can search your tasks and notes, and save your favorite searches as Smart Lists. Adding and editing notes becomes easy with the simple user interface.
ColorNote Notepad Notes
ColorNote is a simple note taking app with a notepad like user interface. It provides the user with quick and easy interface when writing notes, memos, e-mails, messages, shopping lists and to-do lists. ColorNote provides all the functionalities of a notepad that makes it easy to use.
Taking notes is simple with the word processing program any you can write as many words as you want. Once saved, you can edit, share, set a reminder, or check off or delete the note through your device's menu button. ColorNote is recommended to all who like to save their work quickly and easily.