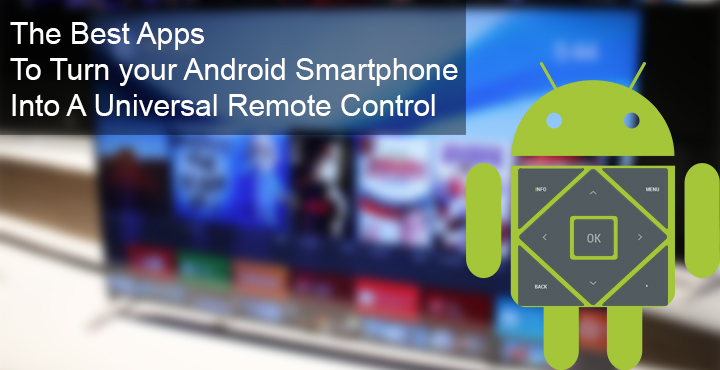 Our Android smartphones have replaced a number of other gadgets around the house. There is so much these can do and the list is only expanding. One of those things is the ability to control any remote controlled device or equipment. This functionality is only present on smartphones that have an IR blaster, and luckily there are a good number of such smartphones in the market. So if you've ever wished for one of those expensive … really expensive remote controls (like this one) it'd be a wise idea to invest in a smartphone with an IR blaster instead. All you need is one app to turn your Android smartphone into a universal remote control
A smartphone with an IR blaster can do all the things an expensive all-in-one remote can do, and more. The best part is there are a good number of remote control apps on the Google Play Store too so you're not stuck with a UI or button placement you don't like. Android phones with an IR blaster can communicate with anything that can be controlled via Infrared signals. Infrared signals are the common way most of the remote controlled devices around your home are controlled. These include your TV, home theater system, set-top box, air conditioner, etc.
Don't miss: Top 5 Adblock Plus Alternatives for Android You Must Try
Below listed are some of the best Android apps that let you control all these devices right from your smartphone.
ASmart Remote IR
ASmart Remote IR has one of the more natural and simpler user interface and it lays out the buttons in a similar fashion. It categorizes your devices into rooms and you can switch between remote controls for multiple devices with a simple tap on the action bar. When you first launch the app, tap on the ADD button and select your device type, brand, and model. You will be presented with your remote and you can switch between interfaces with a simple swipe to reveal more buttons. It is a free app but it is ad-supported. The ads appear at the bottom and aren't really intrusive.
[googleplay url="https://play.google.com/store/apps/details?id=com.raon.aremotefreegalaxy"/]
Remote CT – Smart Remote
If you can't already tell from the screenshots, Remote CT looks and functions very similar to ASmart Remote. That is because it comes from the same developers but without ads. However, ads aren't the only thing different here. The UI is a bit more flat, with smaller buttons and icons and it is also more visual. Instead of having to swipe around, you have to tap on the three buttons in the middle to see more buttons. It shows your remotes on the top in a tab like fashion. I wouldn't call it a better UI than the previous app, but it's an option if you didn't like the way ASmart remote looks and works.
[googleplay url="https://play.google.com/store/apps/details?id=com.remotect.mobile"/]
IR Universal Remote
It is a universal remote app, and it can help you control things, but how about you control the app first? This one is for the customization lovers among you. IR Universal Remote lets you change everything from the colors of your buttons to their positions. It's a grid based UI and while you can place the buttons where you want, it doesn't feel natural. What matters here is that it does work and it supports a range of devices, more than the apps mentioned above. You can even control your PC with this thing. The app also has additional Bluetooth support.
Also read: 4 Best Android Apps You Should Be Using Right Now (Part 2)
But then, unlike the instant app loading and remote building of the previous apps, this one takes its sweet time. Thankfully, the app also has widgets that you can place on your homescreen for quick access. It is also free and there aren't any ads either.
[googleplay url="https://play.google.com/store/apps/details?id=com.freeirtv&rdid=com.freeirtv"/]
AnyMote – Smart Remote Control
This app has hands down the best interface of any universal remote app you will come across as of today. It's not as customizable as IR Universal Remote, but who wants to customize a remote app really? All one wants is an app that works and doesn't feel unnatural to use. Anymote nails it in in the UI department. To top that, it can also control devices connected to your Wi-Fi network. The downside? It's not entirely free. If you want to use more than one remotes, tough luck because you'll have to pay $6.99 for that.
[googleplay url="https://play.google.com/store/apps/details?id=com.remotefairy4″/