Android might be the most popular operating system with hundreds of manufacturers and thousands of devices including budget range phones and tablets to super premium devices. But when it comes to the number of apps featured in the Google Play store, it lags behind Apple's App Store.
Neither of the rivals is the first application market. When the App Store was launched back in July 2008, it has only 500 apps at the time while the Windows Mobile store had 18,000 and Palm App store had over 30,000 apps.  However, the way Apple used its App Store in a commercial way made it outpace other markets. It was not until the launch of the Google Play Store (then called "App Market") in October 2008 that Apps Store found it first true worthy rival.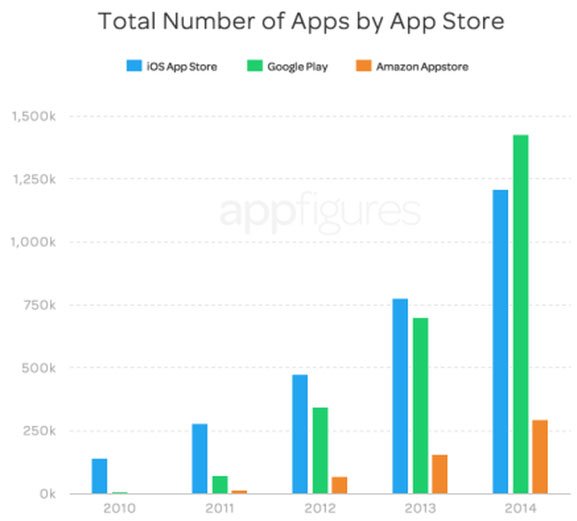 By the end of 2014, the App Store had 1.4+ million apps, while the Google Play Store is just a step down with about 1.25+ million apps. The greatest reason behind having a smaller app market despite being a bigger platform is obviously the type of users who use Android. Because of higher sales, developers tend to build apps for the App store first.
Anyway, here I put an end to the rough info about app markets and come to our real topic, that is, downloading apps from the Google Play Store directly to your computer as APK files. The Play Store might not have the greatest volume of apps in it but it definitely has more fantastic apps than any other store. As Android users, we are privileged to replace system apps with 3rd party apps and if you got root access, there are many special apps that let us do amazing things.
Must Read: Compile and Decompile APK with ApkTool on Windows, Mac & Linux
If you are an Android user who keeps playing with different apps and ROMs, you might need to install, uninstall and then re-install apps quite frequently. Of course, there are some good apps that let you create a backup of apps and even app data (if you have root), but restoring the uninstalled apps might not be a very pleasant experience.
The apps from the Google Play store are installed directly on your phone and if you have more than one devices, you will have to download and install the same apps many times. Isn't it be more convenient if you were allowed to download the apps' APK files from the Google Play store directly to your computer? It could save you much data cost.
If you ever missed that feature and wanted to download APK files from the Google Play, there's now a very handy way to do that. Thanks to the APK Downloader extension for the Chrome and Firefox browsers that has made it really possible.
It's very easy to setup and use APK Downloader. Having installed and configured the extension, you see Download APK option when you open any free app page in Chrome or Firefox.
Setting up APK Downloader
First of all, install the APK Downloader web extension depending on your web browser:
Now open the Extension/Add-ons page on Chrome/Firefox:

On Chrome, click the Menu button, select Settings> Extensions.
On Firefox, click the Menu button, select Add-ons> Extensions.

Go to APK Downloader extension and click Options.
Now, you'll see a new page name Options with 3 text fields where you need to enter your Gmail address that you use to sign-in to the Google Play Store, your Gmail password, and your Android Device ID.
To get your device ID, install the Device ID app on your phone and open it: [googleplay url="https://play.google.com/store/apps/details?id=com.redphx.deviceid"]
Now fill in the 16 character device ID and click the Login button.
Now select your phone's Android version and device name from the drop-down menu.

Finally, click the Save settings button.
Done! You are now ready to download apps as APK files from the Google Play Store. Just open any free app page in your browser and you will see a Download APK button beside Install button. Just click it and behold the magic!
Note: You won't see the Download APK option on paid apps unless you purchase them once.