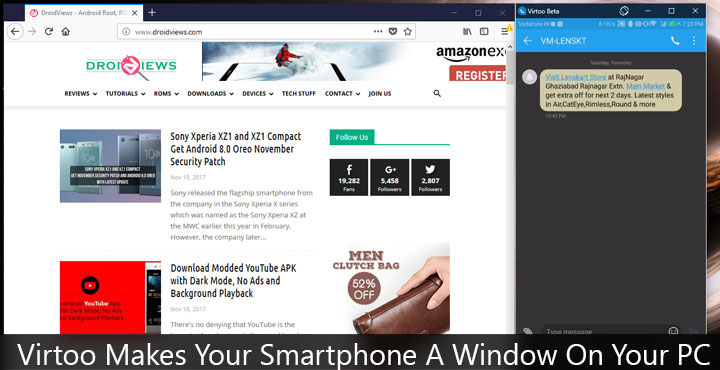 Connectivity between the various devices we use daily is a big focus for developers these days. If you've been in Apple's ecosystem of devices you probably have a general idea of how pleasant an experience it is. It is awesome when you don't really need to pick up your iPhone to respond to text messages while you're working on your Macbook. Microsoft has been working quite hard towards making that a reality between Windows 10 and Android devices. Virtoo has similar goals in mind. At first glance, it seems like any other ordinary screen mirroring software. It is a bit more than that, however.
For one, screen mirroring isn't the central theme of this app. Although, you will end up using screen mirroring for the most part. Using Bluetooth and WiFi, Virtoo lets you make calls, read messages, and use any mobile application on your PC. This makes things a whole lot simpler when your phone is at some place out of your reach. To add some sugar to it, it also displays any notifications you receive on your phone right on your PC. Tapping on the notification will launch the concerned app on your PC.
Just to make it clear though, unless you're texting, or viewing contacts, everything you do "on your PC" is still actually happening on your phone. It is just lying somewhere in the dark, getting operated on magically. It's a nice way to spook someone not so technically knowledgeable. So in essence, Virtoo actually does make your smartphone a window on your screen, which is its tagline. Virtoo is still in beta so it does come with a few hiccups while connecting for the first time.
What I like the best about it, compared to other screen mirroring apps is how it tries not be just that. Moreover, you don't need to have access to your phone once you've paired it. This is where other similar apps fail. You don't connect your phone to your PC and then consciously throw it out of your reach. Instead, you don't realize you need your phone and don't have it nearby until you actually need it and it's not nearby. With Virtoo, just make sure you keep Bluetooth turned on at all times while at home. This is a reasonable requirement, considering you always have access to a charger at home. Virtoo automatically connects as soon as it detects your phone.
Virtoo currently works only on an Android smartphone and a Windows PC. There's no word on whether anything for Mac or Linux is on the way. An iOS app for iPhone is in the works.
Install Virtoo on Android
[googleplay url="https://play.google.com/store/apps/details?id=com.screenovate.virtoo&hl=en"/]
Install Virtoo on Windows PC
Visit the official Virtoo web page and click on the big blue Download button. Turn on Bluetooth on your PC. Then double-click on the downloaded .exe file and follow the setup wizard to install Virtoo. A Bluetooth pairing is quite necessary for Virtoo to work because that is how it identifies your phone. It then gives you access to a list of apps installed on your phone, allows you to view contacts and make calls, read and respond to messages, and notifications. Screen mirroring in only required, when you want to launch apps on your phone and occurs over WiFi.
Complete a one-time setup
When you have Virtoo installed on your PC and your Android phone, launch it on both of them. On your phone, tap on the blue button at the bottom that says PAIR WITH A PC button.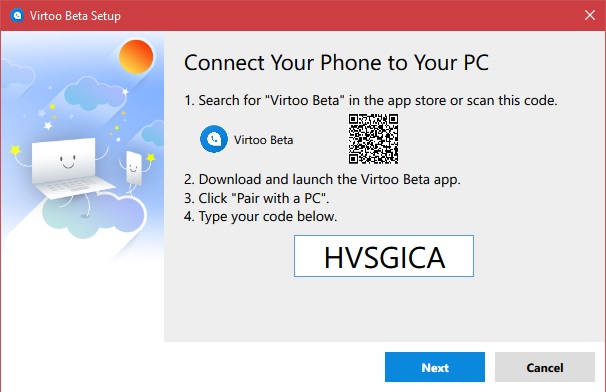 You will be shown a code. Click on a similar button in the Virtoo window on your PC. Enter the code you see on your phone on your PC and click Next. More often than not, the connection will succeed on the first try.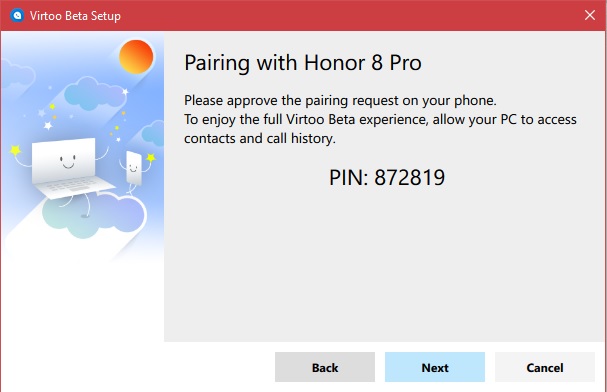 Confirm the PIN on your PC and allow all the permissions required on your phone. This is all a one-time thing. Once connected successfully, you don't ever have to go through any of it.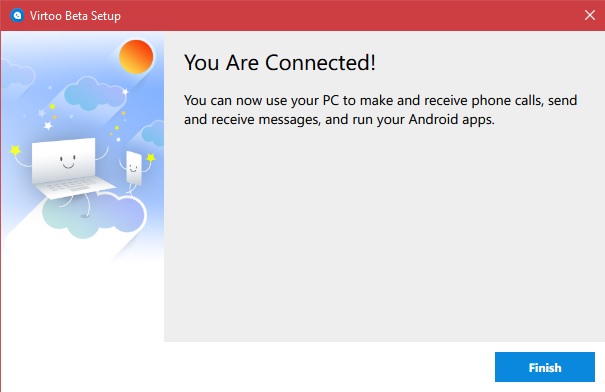 Your PC now has a window to your Smartphone
Using Virtoo is not difficult at all. There are familiar icons on the left of the Virtoo window – Notifications, Dialer, Contacts, Messages, Apps, and Screen mirroring. Some other icons right below these are Feedback, Do Not Disturb, Connect/Disconnect, and Settings. You'd wish the Do Not Disturb button would put your phone into DND mode but all it really does is turn off notifications on your PC. But Virtoo already does so much that I don't really mind. You've got to try it.
As it does say in the title, you can also control your PC from your phone to an extent.