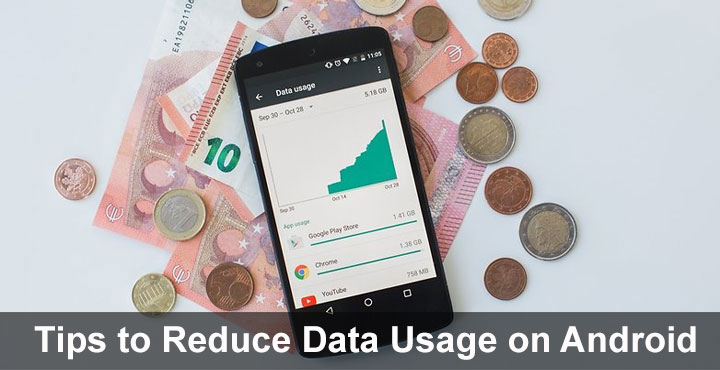 As technology advances, the size of content to consume on the internet grows as well. The faster the internet speeds, the more the data consumption. Over the past few years though data consumption has grown exponentially and if you're not on an unlimited connection, it can get a bit hard to manage your online life. Increasingly sophisticated websites and data-hungry apps don't provide much help either. Google has taken data savings on Android seriously and so have a couple of other app developers like Opera and Facebook. If you're on a limited internet connection, these tips to reduce data usage on Android might come in handy.
Reducing Data Usage on Android
Check your data usage
The first thing step to reducing your data usage is to check your data usage and analyze which apps are using the most amount of data and whether they're using it in the foreground when you're using the app or in the background. Tracking your data usage on Android is quite simple. Just go to Settings and tap on Data Usage. If you scroll down, you will see the cellular data usage by app. If you want to see your Wi-Fi data usage as well, hit the menu button and select Show Wi-Fi usage.
Also read: 5 Android Apps That Utilize the Quick Settings Tile API [#1]
Set a cellular data limit here to disable mobile data once you exceed a pre-determined cap. Tapping on an app on the list will take you to the next screen where you can see how much data an individual app has consumed in the foreground and background. You can restrict the app from accessing your internet connection when in the background. This can, however, prevent some apps from properly functioning, especially Google apps and system apps.
Use Android's built-in data saver
With Android 7.0 Nougat, Google introduced an inbuilt data saver found just beneath the Cellular Usage section. All you have to do is turn it on but remember that once you do this, background data will be restricted to all apps. If you wish to whitelist any apps, tap on Unrestricted data access. You can then toggle the sliders next to an app's name granting it the ability to use data even when in the background. It's probably a good idea to grant this access to any music streaming apps.
Don't miss: Schedule Your WhatsApp Status Photos with XStatus Changer
Individual app settings
In case you're not on Android Nougat, you can still save data by surfing through the individual app settings for the apps that use. There are also data saving versions of certain apps that you can use such as Facebook Lite or Opera mini. You can also use Chrome's data saver functionality while browsing.
Use offline functions
A lot of apps these days, especially streaming apps come with some sort of offline functionality. For instance, you can store YouTube videos offline when you are on a Wi-Fi connection for viewing later. Google Play music allows for storing your library offline on your device storage. Google Maps has the option to store a selected area of the world offline on your device as well. Even Facebook allows for saving articles and videos offline.
Compress data usage with Opera Max
Opera Max is a data saving app that saves data while browsing and especially while streaming online videos and music or viewing images. What it basically does is send the data through Opera's own VPN servers to compress the size of media files, although, it does result in a slight decrease in quality. It is hardly noticeable, however, and Opera Max makes data saving pretty painless. It is especially useful for those of you who are not on Android Nougat.
You may also like: 5 Types of Apps You Should Stop Using Right Now
The app will show you which apps on your phone have the most potential to save data. Video streaming requires less buffering as a result of compression and it is where the data saving is the maximum. Data consumption in video streams is reduced by up to half of what would originally be consumed. Opera Max also gives you control over each and every app individually letting you monitor their data usage and restrict it much like Android nougat's built-in data saver feature.
Apart from all the above methods, in case you use a rooted Android device, you can use AdAway, an ad-blocking application to block in-app ads which ultimately also consume data in order to be displayed. We also hope you're not among the people who use apps such as Clean Master to clean your cache regularly because it is a useless process and the next time you open an app you will be downloading all that all over again thus consuming more data in the process.
Did you try any of the above tips? Have they helped you? Sound off in the comments below.
Read next: Save Data on Android with Google Datally