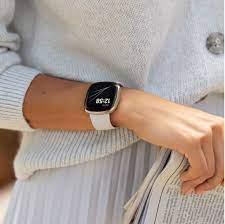 The Fitbit Sense is the most expensive Fitbit yet. Here's everything you need to know about this excellent fitness-tracking smartwatch.
What critics say about the Fitbit Sense
Jimmy Westenberg from Android Authority says in his review that the Fitbit Sense is a nice update over the Versa 2. It definitely hits the basics and is an excellent fitness tracker. Fitbit's hardware and fitness tracking efforts shouldn't go unnoticed.
He adds that Fitbit may not have done enough to justify Sense's higher price tag over the Versa 3. Additional functions are helpful, but the EDA sensor and the information available are "not yet available". He concludes with the words: "If Fitbit is to compete in a world where the Apple Watch exists, it has to be in its Agame. Right now it looks like Fitbit is playing for the B team. "
What other reviewers on the Internet are saying
What other reviewers on the web are saying about Fitbit Sense.
Lexy Savvides and Scott Stein at Cnet have mixed feelings about the Fitbit Sense. They say, "If you want a health device to monitor your daily stats and you also want an EKG on a Fitbit, this is your watch." However, if you can do it with the added features, the Versa 3 is more than up to the task and a great, cheaper alternative. "That way you save a few dollars and wait for Fitbit to fix the issues for the next generation of Sense." Angela Moscaritolo of
PCMag says the Fitbit Sense seems like a timely start given the ongoing pandemic. the ability to monitor blood oxygen saturation, heart rate, skin temperature, and stress levels are currently useful functions. However, he says it is Sense's high price "that might make you pause" considering the competition it faces. Cat Ellis of
TechRadar says, "The Fitbit Sense is one of the best Fitbits on the market right now, building on the success of the Fitbit Versa line with several new and thoughtful updates." She says it is designed to put your wellbeing first and to help you make changes to improve your physical and mental health. However, he adds that the Fitbit Sense "isn't perfect," and the Fitbit companion app, in particular, could use some work.
Fitbit Sense Design and Hardware
Jimmy calls the Fitbit Sense "a premium smartwatch from start to finish" in his test, which starts with the design. It's not a new look compared to its predecessors, but Fitbit uses premium materials to improve the build quality and further refine the existing formula to make an attractive smartwatch.
The 1.58-inch AMOLED panel is impressive, is bright outdoors and has good viewing angles. There's a large frame around the screen again, but it's almost a signature look at this point. However, it is significantly smaller than what we saw on its predecessors. An inductive button on the side acts as a home button, but it isn't. t very well positioned and may sometimes be unresponsive. In theory a good idea, but we look forward to better implementation with future generations.
Another useful update does not have to do with the watch itself, but with its charger. Fortunately, the locking configuration is gone and the charger is now magnetic. The Fitbit Sense also comes with a quick charge that allows you to charge the watch from 10% to 80% in about 40 minutes.
Fitbit also fixed its terrible proprietary strap mechanism, and now all you have to do is pull a little latch to remove it. Other reviewers have had trouble unlocking the latch with the slightest pressure while wearing the watch on the wrist. So this is something else that Fitbit may need to consider. If you don't like the standard or sports bracelets available with your watch, you can choose between 1st and 3rd party bracelets on Fitbit.com and Amazon.