Reviews
Finder is the default file explorer on macOS and for the most part, it gets the job done. But there is so much more, that it cannot do.
The fourth generation of Motorola's popular Moto Z series has been launched. Yes, we're talking about the Motorola Moto Z4.
Oppo's Reno series of smartphones have been creating headlines with their shark fin front camera. Today, Oppo unveiled the fourth
Even the most barebones version of Android does ship with some built-in stock apps. OEMs often put their own versions of stock apps
We take so many photos these days on our smartphones that managing them can be a real task. No wonder there are so many companies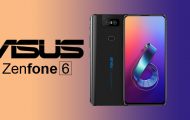 Asus released its latest flagship offering Asus Zenfone 6 on 16th May 2019. It is really worth the buzz it's making in the tech
Friendzoned is a small chat-based text game and this is a Friendzoned game review. Spoiler alert, it's definitely worth a try. 
Korean smartphone maker Samsung outed the upper mid-range Galaxy A80 smartphone back in April. With that said, today we have 8 official