Miscellaneous
Android is known for its customization capabilities and applying custom font is one of the major things to give your Android a unique
What is the Li-ion battery? Is this battery technology becoming obsolete or will it roll onto the future with new developments? Here we
You must have heard about ARM, ARM64, and x86 processors that power most modern smartphones. Which of these processors your Android
Here's a list of some useful ADB and Fstboot commands that might come in handy in different situations. These ADB commands work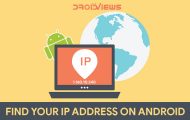 If you are an Android user and want to find your IP address, there are many ways you can do so. This tutorial will be describing how
Today, when almost everyone has an Android phone, converting videos, is not as mainstream as it used to be. Android can play almost any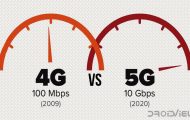 4G vs 5G networks: Learn the difference between the 4G and 5G networks and also how they differ in speed, performance, and cost.
5G will be available next year. Are you excited about it? Do you know what 5G is and how it's going to be different than 4G which
Ingress Protection rating IP Certification explained in detail to give you an understanding of how dust and waterproof your phone is.