Google
Known amongst Android enthusiasts as the best Android skin, Oxygen OS sure has its merits. The built-in app and files locker, parallel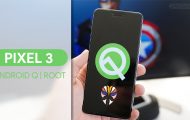 The Google Pixel 3 and Pixel 3 XL launched with just 4GB of RAM and pretty small batteries. Many expected Google might just be able to
If and when your device has Android Q, you can simply turn all Google apps dark by enabling the system-wide dark mode. This includes
Google recently launched Android Q beta versions for limited devices. This is a super early vision of what Android Q wants to be like.
Google Keep is one of those Google apps that have been updated and blessed with a dark theme. Google has been doing this for a while
With the Pixel 3a and 3a XL, Google has tried something none else has before. Until now, the camera quality was the one aspect of a
First, they went white and now they're going dark. Dark Mode is all the rage these days with all major OS developing companies.
USB Drivers are a compulsory thing to be installed on your PC so that your mobile device can interact with your PC. Download USB