Downloads
Customization and flexibility lie at the core of Android and it is this potential that draws  more and more people to it, making it the
The Google Play Store has millions of apps and games. Whatever your requirement might be, you'll find not one but many apps to
Listening to the music of some kind has always been one of the most favorite pastimes of the human race since the dawn of civilization.
At DroidViews, we keep looking for interesting stuff so that we might share them with our users and thus provide them everything they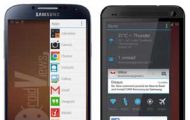 Modern life has become very complicated and the technology it relies so heavily on is growing more and more simplistic. Being depended
There is no native support for third party themes or icons on Android but it does not mean that you cannot theme your phone at all.
No other operating system for mobile phones is capable of giving as much possibilities of customization as we see and experience in
The quality of display of a smartphone or tablet can enhance or mar the level of user experience it gives to its owners. With every