Android Apps
Online privacy has become one of the greatest concerns among Internet users. We love to surf the web but hate being tracked or spied.
Looking for a great, simple and powerful music player for Android? You must give a shot to DDB2. DDB2 Music Player can play songs from
Whether you are looking for a music festival of your favorite band, a museum exhibition or a certain party to enjoy your evening, then
Are you an event organizer, or do you have to plan an event and manage it efficiently? There're apps that can help you with that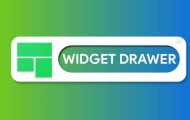 Widget Drawer is a new but awesome addition to the Google Play Store. The app lets you access widgets on Android from anywhere using
Are you looking for a beautiful weather app? Today Weather Forcast is the most beautiful app in my opinion and you must give it a try.
Samsung's One UI is awesome and so are the icons that come with it. While it's not possible to have OneUI on non-Samsung
Minimalism has been slowly taking over the modern UI design from operating systems to applications. It's also necessary in many
Our today's app-in-discussion is NewPipe App which is a lightweight yet powerful YouTube alternative you must try. F-Droid is an