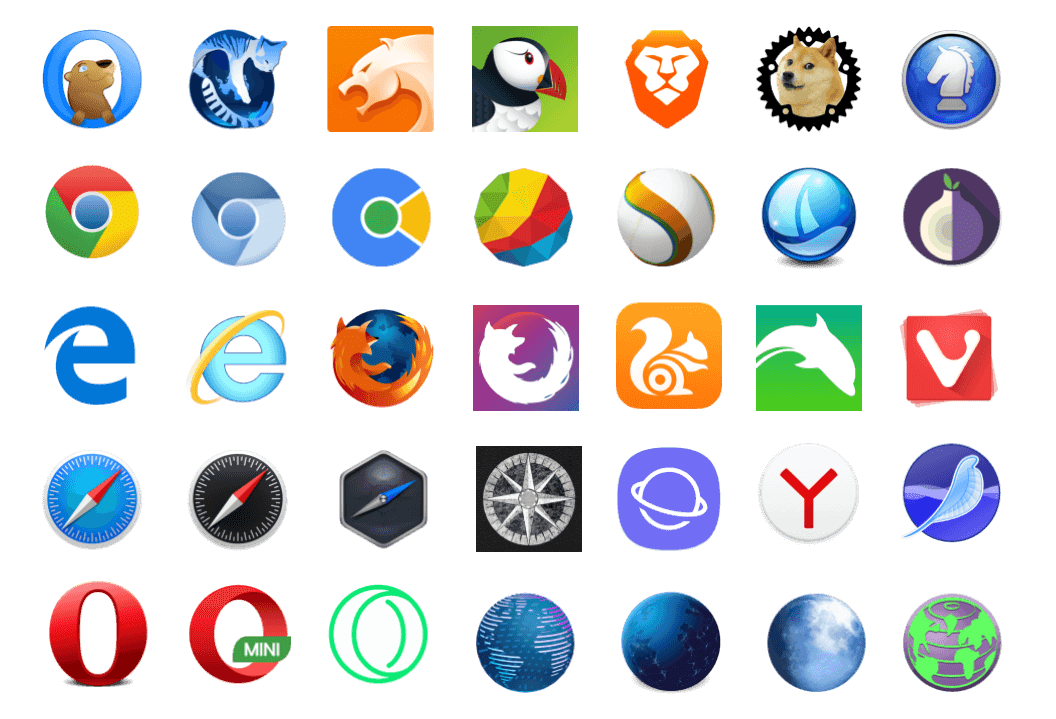 Having a Flash player is not necessary to fully use an Android device. You can enjoy your Android even without it. However, you may need to have a Flash player if you want to play certain audio or video files. So it's best to have a Flash player installed, just in case.
So, how can you install a Flash player on your Android device? You can just go to Play Store and install Adobe Flash Player for Android phones and tablets, but that is a tiring process. So, many users decide to install a Flash-enabled browser for Android.
But what Android Flash browser? To help you choose, we've picked the top 5 best Android browsers with Flash player built-in for your convenience:
If you have heavyweight hardware, Dolphin Browser can be your best Flash browser, although this works on relatively low specs as well.
One main benefit of Dolphin Browser is its visual customizability: change the look of your app however you see fit. This is something not commonly offered for browsers. Also, it has an ad-blocking installed by default, so there's no need for you to install a separate adblocker. Lastly, Dolphin Browser is free – including its winning features.
However, this still works best only if you have a higher spec. Also, it comes with ads even though it's free. Nevertheless, you should definitely check Dolphin Browser Flash.

Kiwi Browser is another one-of-a-kind browser with a built-in Flash player. It uses Chromium, which means you can customize your browser more because you have access to a variety of setting options.
Also, there's no need to worry about page load screen – it has a fast page load speed! And yes, you can also block unwanted blocks because of its pre-built ad blocking system.
Lastly, there's also Night Mode and selected Language Translation options for your translation needs.
The only downside is, it doesn't have a desktop sync option. Nevertheless, you should check out Kiwi Browser.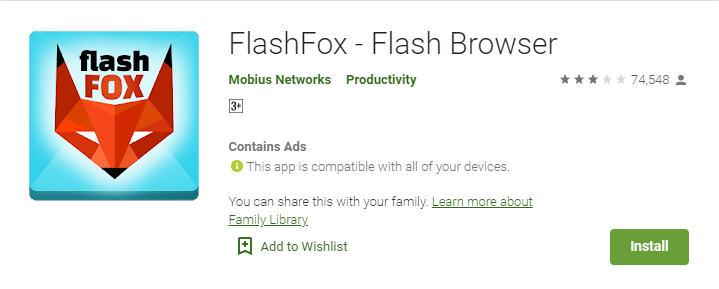 FlashFox is a highly-rated, Android Flash browser available on Play Store.
The inspiration of the name FlashFox comes from Mozilla Firefox, although it has no affiliation or any relation with Mozilla.
When it comes to performance, FlashFox is known for its very fast browsing speeds. As with any Flash browser here, FlashFox has a built-in Flash player for your Flash needs.
Recently, its developers added support for Android L, so it's compatible with any device that used Android 2.3+.
Because FlashFox has a built-in Flash player, which is also known to be one of the fastest Flash players in the market and very fast browsing speed, there is usually no need for you to download another Flash browser once you installed it.
So, what's the downside? Ads. That's just it, ads. But at least, it's free! So check out FlashFox now!
One of the classics when it comes to Android Flash browsers, Puffin Browser is highly known for its high-security features. And of course, it has a built-in Flash player on its browser.
One thing that separates Puffin Browser from other Flash players is that it is updated regularly by its developers, so you'll get the latest and most secure version of the browser – add the fact that it updates over cloud, which means you'll immediately get its updates.
Another key feature of Puffin Browser is its compression algorithm. This is to help you save data. So if you're using a limited data plan, this feature will be very helpful for you.
Lastly, if you're into gaming on websites, Puffin Browser will work very well for you because it supports browser gaming. It has a gamepad and virtual trackpad in case you needed it in your browser-based games. No need to use your laptop or computer when playing browser games!
Those are just some of the spectacular offers of Puffin Browser. But if there's one last feature that we can add to this list, it's that you can it for free – and it will come without any ads or in-app purchases.
Download Puffin Browser now.
Just like FlashFox, Lightning Browser is known for page load speed – hence the name! Also, just like the ones on this list, Lightning Browser has a built-in Flash player by default, so there's no need for you to install another app or plugin to get a Flash player.
One thing that separates Lightning Browser from the rest is that it can run with older devices – even as old as Android 2.2! So, if you're using an Android device up until that range, you can enjoy the benefits that Lightning Browser has to offer.
The developers also designed the browser to take as little space as possible, so it should not have any problem with your phone when it comes to memory or storage usage.
Security is also highly-considered by its developers, so your data is safe and secured here.
Then lastly, Lightning Browser is also free to download without any ads and in-app purchases with it.
So, check out Lightning Browser for yourself and see how it goes!
Opera Browser has existed on earlier phones ever since. It has a built-in Flash player and is great for private browsing. In fact, when it comes to performance, it is so powerful that it can even come close to Google Chrome!
Opera Browser blocks unwanted ads and tries to maximize up your browsing or page load speed. It also offers an incognito mode if you want to browse privately.
What's more? It even has an in-built VPN connection to keep all your online activity from unwanted eyes. We usually will not see that in other browsers available!
In other words, even though Opera Browsing is old, it is something that you may want to check out as well.
Conclusion
These are just some of the best Android browsers for your Flash needs. Be sure to check them out!