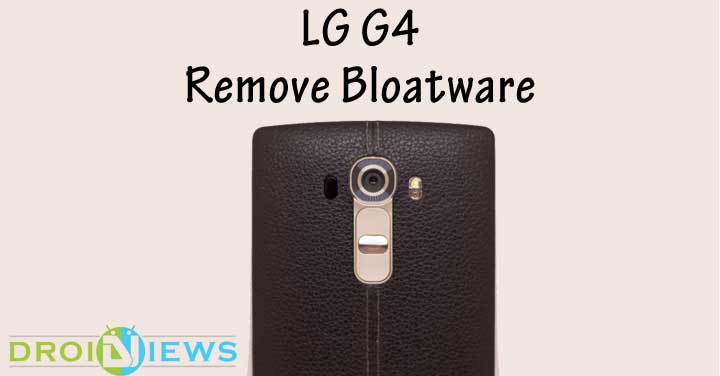 One of the many advantages of buying a phone on a carrier contract is the affordable price it comes for and the various benefits that the said carrier offers you. After all said and done, what those carriers such as T-Mobile, Verizon, Sprint etc fail to mention is that all these phones which you would be purchasing from them would be filled with unnecessary applications preinstalled, known as bloatware.
The LG G4 which is LG's current flagship entry into the market, launched earlier this year which usually costs an upwards of  $599 for the unlocked edition, would cost you somewhere around $199-$250 on a contract basis depending on the carrier you choose.
This would also mean that your LG G4 will most certainly be filled with a lot of bloatware applications from said carrier. A few common bloatware apps that come preinstalled on top US carriers are:
AT&T: AT&T Family Map, AT&T Live, AT&T Locker, AT&T Navigator, AT&T Smart Limits, Caller Name ID, Digital Life, Mobile TV, Yellow Pages local search, AT&T Mobile Locate, AT&T Mobile Transfer, etc.
T-Mobile: Caller Name ID, T-Mobile TV, T-Mobile Mobile Hotspot, etc.
Verizon: Caller Name ID, VZ Navigator, Verizon Cloud, Verizon Messages, Verizon Support & Protection, Verizon Mobile Hotspot, etc.
Sprint: Lumen Toolbar, Eureka Offers, Messaging Plus, Scout GPS Navigation & Traffic, Sprint Money Express , Sprint Music Plus, Sprint TV & Movies, Sprint Worldwide, etc.
But don't let this be a factor in putting you off buying using a contract. Using this guide you can actually disable all the bloatware applications that come preinstalled on the device. Disabling the bloatware simply means that those applications will no longer be visible in your app drawer and it won't eat up any extra RAM or processor.
Disclaimer: The following procedure is highly risky and there are chances that you may brick your phone if not performed correctly, DroidViews cannot be held responsible if that happens. So the user should tread cautiously and at their own risk.
Preparations
Firstly you will need to prepare a few things before starting the process:
Ensure you have at least 60-65% battery charge.
Make sure you have adb and fastboot installed on your PC.
For those who aren't familiar with adb and fastboot, please refer to our detailed guide on How to Setup ADB and Fastboot on Windows within Seconds
Ensure you have the proper USB drivers for your phone installed. (Download here).
Enable USB-Debugging from Developer Options in the Settings menu.

If you cannot find Developer Options, then you'll have to first enable it by going to Settings> About Phone> Build Number and tap it 7 times until you see a small notification that you have enabled it.
Then return to the Settings menu, you should find Developer Options there. Open it and enable USB Debugging.
Remove Bloatware on LG G4
Once you have met all the prerequisites all you have to do is follow this guide on using the Debloater Tool by xda developer gatesjunior we had prepared earlier:
Remove Bloatware from your Android Device using Debloater Tool
And presto! You have successfully blocked/disabled all the bloatware in your LG G4. If you had any difficulty or faced any problems during the procedure do let us know in the comments section below.