The HTC One M8 was listed on Verizon's site much ahead of its official release. The device is out now and making its way to the users. There is a big class of users who start looking for a method to root their device as soon as they get it in their hands. As you know, Verizon devices are generally seen as a hard nut to crack when it comes to achieving S-Off, unlocking the bootloader and gaining root access.
There is always a hide and seek going on between the largest US network operator and the most talented development community. While most variants of the HTC One M8 can be unlocked using the HTC Dev method on the official portal, the Verizon model has received the same treatment as it predecessor, the HTC One M7. Its bootloader cannot be unlocked currently. It seemed that the users of VZW M8 might have to wait for a long time before HTC extends some generosity.
At a time when the users of the device were beginning to feel disappointed about achieving root,  jcase and beaups teamed up together and came up with one of the easiest root exploits to root Verizon HTC One M8. The developer duo has named the new root exploit as WeakSauce. The WeakSauce root exploit works not only on the Verizon HTC One M8, but other HTC device also. The good thing about the exploit is that it roots your M8/M7 by simply installing an APK file and in doing so it also bypasses locked bootloader.
The little bad thing, however, about WeakSauce root exploit for the Verizon HTC One M8 is that it only makes /system/xbin writable. There is nothing to worry about this limitation as you will be able to use all apps that require root access and even Xposed Framework on your M8.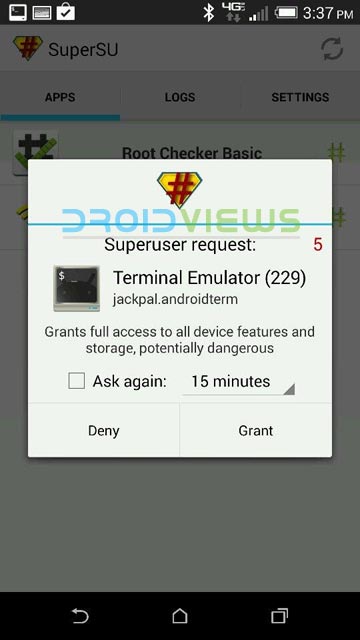 Root Verizon HTC One M8
Download WeakSauce exploit file from jcase's XDA thread.
Extract the ZIP file and copy the WeakSauce.apk file to your HTC One M8.
Go to Settings> Security and check the Unknown sources option. You can also do it while installing the app.
Install a file explorer, navigate to the app and install it.
Open WeakSauce app from the app drawer and hit the Agree button.
Open Play Store app and install Chainfire's SuperSU app on your device.
Now reboot your phone and wait 30 seconds after it boots up so that WeakSauce may complete the rooting.
If you wish to unroot your device, uninstall WeakSauce and SuperSU, and then hard reboot your device through ADB.
When you are done with rooting your Verizon HTC One M8, it's time now to verify root access. Install the Root Checker app from the Play Store and run it. [googleplay url="https://play.google.com/store/apps/details?id=com.joeykrim.rootcheck"]
Thanks to Shane Starnes for the screenshots! To see Verizon HTC One M8 rooting with WeakSauce exploit in action, watch this YouTube video!
S-Off and CWM Recovery for Verizon HTC One M8
Having rooted your phone, if you also want to install a custom recovery on your Verizon HTC One M8, head to our next tutorial.