The thing about different Android manufacturers is that they all deliver various advantageous proprietary apps or features, which are better than other related apps out there. And at most times, these apps and services are only limited to the their respective devices, and are considered as the major distinction between various OEMs. Some of these are namely – Samsung's TouchWiz (has been ported too), S Beam, S Voice, Heart Rate Sensor, LG's Knock Code, Sony's Walkman and Movies etc.
About HTC BlinkFeed Port
HTC BlinkFeed is one such service provided by the worthy Android OEM and accompanies every latest HTC smartphone running Sense firmware. It is an intelligent launcher app which keeps all your information like social posts, sports updates, news, and all your likes right in front of your eyes, changing at the instant of your blink. Some people may even find BlinkFeed to be resembling Windows phone launcher. BlinkFeed is alike Google Now – the more you use it, the more it proves useful to you, it is intelligent and gathers all your latest searches and views, and finally display the right information at your device's screen. At first, you might feel like throwing it off your Android, but trust me, it improvises a lot with time.
Thanks to the bright minds at XDA forums, who can turn almost every impossible thing to possible. One such member is gakugaku, who has taken the privilege to port the famous and very handy HTC BlinkFeed to all the Android devices. The project began back during April 2014, when almost every new HTC flagship insisted the used of BlinkFeed. Now, some of you might question – "It is just an app, which can be extracted and used, then how is it called porting?".
Now, the developer has not just pulled and packed the required APKs, but he has done a lot of homework, tracing the errors, fixing them, packing the apks and finally delivering them to the public. gakugaku's original porting started over here and has made its way to the XDA community, where it has been highly supported and used by a lot of people on a long list of devices.
Visit the XDA thread for more information on the HTC BlinkFeed port and stay updated with the latest release.
Update
(Please try the new port)
Install HTC BlinkFeed Launcher (Sense 6 and 7) on Your Android Device
Install HTC One M9 Launcher, Keyboard, Gallery, Music Player Apps and Widgets
Install HTC BlinkFeed and Keyboard
BlinkFeed Port requires an Android device with Android 4.4 KitKat or up to work.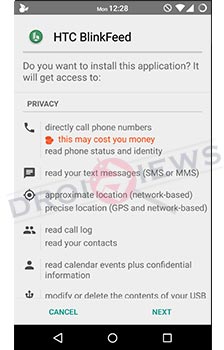 Download BlinkFeed Port version 17 to your device, or download on PC and transfer it to your device: Link
Extract the Htc_BlinkFeedv17.zip and you will result in the following files: base.apk, BlinkManager.apk, com.htc.launcher-1.apk, Twitter.apk, Weather.apk, worldclock.apk.
Now using a file manager, open the location where all these files are present and install them one by one manually.
Once installed, reboot your device and enjoy BlinkFeed Port on your Android device.
Once you Install BlinkFeed,  it will start gathering all your data on your social channels. You can choose to integrate services like Twitter and customize the list of headlines you want to view.  Scroll to the BlinkFeed, swipe from the left of the screen and tap on the 3-dot menu. You can select Services &  Apps to manage related services or Add Content to choose and add required headlines. It also allows you to compose tweets or status directly to Twitter, just press on Compose and select the app you want to compose to.
Install HTC Keyboard
HTC has a tendency to do everything in a sleek manner, so is its Keyboard. It is full of features, looks amazing and supports a long list of worldwide languages. To Install HTC keyboard on your Android device, follow the steps below.
Download the complete Keyboard package containing keyboards of  all supported languages: Link
Extract the imeset.zip file and choose your desired keyboard.
Transfer the chosen keyboard Apk file to your Android device.
Using a file explorer/manager, browse to the location of the Apk and install it manually.
Once done, reboot your device.
Change BlinkFeed Themes
The BlinkFeed launcher is not just intelligent, but beautiful too and offers additional features like Grid Size and Hide apps etc. You can match your BlinkFeed to the theme on your device with a variety of colored schemes using the BlinkManager app, which is offered within the package too.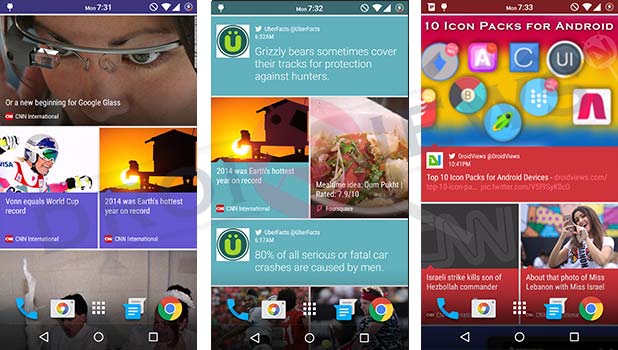 Just hit the app drawer, tap on BlinkManager > BlinkChanger. Now, press on ThemeChoose to select from the list of several color schemes. Finally, tap on ApplyTheme to set the chosen theme as your default. Other services delivered with the BlinkFeed package are HTC Weather,  World Clock,  Twitter for HTC Sense, and HTC Blink Manager
What Do I Think?
I did not find BlinkFeed at first and practically threw it over, assuming it to be a junk, until i saw the huge rise in the corresponding thread. Now after using it since a couple of days, BlinkFeed has become a partner to me, just like Google Now. I have all my social updates, be it Facebook, Twitter, Instagram over it, providing me the latest and the most recent updates. For me,  the clock app never worked,  but it may for you and your device.  Just go ahead,  download and install.
Did it work for you? Report back to us with your device model and Android version. Provide us with your valuable feedback and help us build a better community.