The most popular cross-platform instant messaging application WhatsApp has had the voice message feature for a quite a long time now. Sure, you have the option to use the voice call feature that has been available for quite some time now, but, voice message is a much more convenient option. Voice message allows you to communicate more deeply with a person and is also more preferable option than a voice call, for which you have to dedicate time and effort. Now, let's get to the main point of the article. Today, I would like to present to you an app called Transcriber for WhatsApp.
An amazing and only neat feature of this app is that it allows you to convert the WhatsApp voice messages into texts. This is very handy when you do not want to listen to a voice message or the situation doesn't allow you to listen to a voice note. For example, when you are in a quiet environment and do not want to disturb others. This app is a relatively new app launched recently by developer who goes by the name Mirko Dimartino. As of now this app supports languages such as English, French (Francais), Italian (Italiano), German (Deutsch), Spanish (Espanol), Portugese (Portugues), and Russian. However, an important point to note is that, the accuracy in converting the voice into texts to the English language is fine enough, although not perfect. Moreover, considering that, this wonderful app is relatively new and is constantly being improved in each and every update, the accuracy is not at all an issue. Furthermore, also note that, I have only tested this app by using the English language. Also, this app is not available in every country in the play Store as of now. Nevertheless, you can download it from apkmonk.com. I will provide the link to download it via apkmonk.com along with the Play Store link towards the end of this article.
All said, now let's get started with the screenshots depicting the aforementioned app doing its work.
Must Read: Manage and Edit Your Photos with Photo Editor App for Android
Transcriber for WhatsApp in action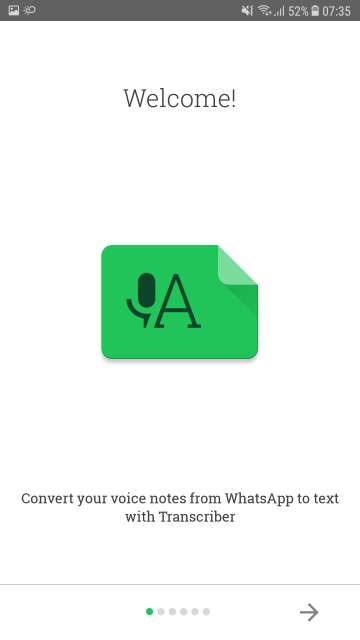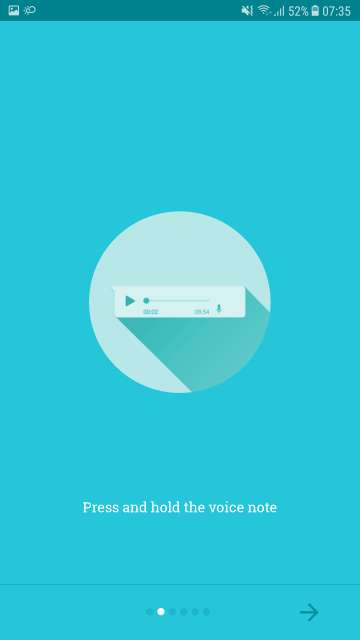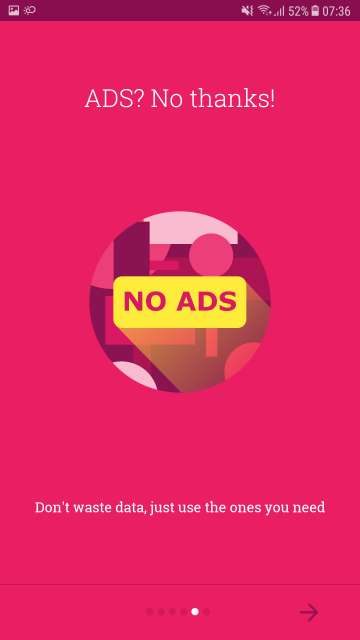 Don't Miss: Read Your Favorite Webpages Offline and Save Data in Article Reader Offline
Checkout next few screenshots to get an in-depth idea on how this app actually works.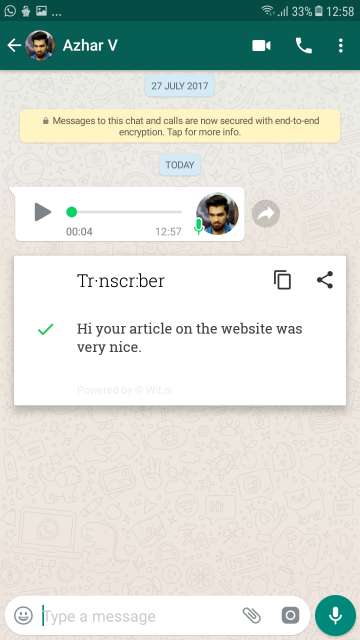 Voice message converted into text. Accuracy is fine enough most of the time. However, your experience may be different. Will improve over time by updates, hopefully.
Conclusion
And there you go folks, on my take on this really useful and convenient neat little app. Kudos to the developer Mirko Dimartino for this app. Download via any of the two links given below:
Google Play Store:
[googleplay url="https://play.google.com/store/apps/details?id=it.mirko.transcriber"/]
If the app is not available in your country, then download it via apkmonk.com and sideload it to your device. Also, remember to enable Unknown sources in your device security settings to install it this way. Link is given below:
Download Transcriber for WhatsApp via apkmonk.com
Also Read: How to Send Any Unsupported File via WhatsApp on Android